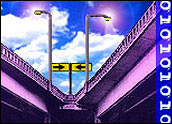 There is plenty to like about cloud computing, but there are also plenty of reasons to be wary. Part 1 of this two-part series suggests that it's not all about simplifying and cutting costs. Companies considering cloud services should take a sober look at some of the potential drawbacks before taking the leap.
Lower total cost of ownership and little or no IT infrastructure to maintain are good starting arguments in favor of moving to the cloud.
While such concepts are easy to understand in the abstract, considering cloud computing on an industry-specific basis drives home some surprising limitations on this hot new model.
Integration: Storage in the Cloud
Integration can be challenging in the data storage space, for example, because cloud storage services are generally using new, proprietary interfaces not yet supported by any third-party software.
"Customers must modify their applications to use these new storage APIs (application programming interfaces) and thus lock themselves into that service platform," said Jered Floyd, CTO of Permabit, a provider of scalable, data-reduced storage for enterprise archiving.
"These interfaces are frequently revised, as these services are still a work in progress," he told the E-Commerce Times. "So, there is continued development commitment upon adopting a cloud storage solution."
The quality of service among cloud providers can be poor, Floyd pointed out.
"All cloud storage services that I know of have had significant unplanned downtimes," he said, "and these are monumentally disruptive to business."
That's a risk with any outsourced solution, Floyd added. "You are making a bet that the third-party provider can do a better job of keeping the system up than you can, at a better price. Sometimes you win — sometimes you lose."
Security: E-Mail in the Cloud
Commodity applications like in-bound e-mail filtering — such as antispam and antivirus applications — can be handled outside an enterprise internal IT infrastructure and are well-suited for the cloud, suggested Glen D. Vondrick, EVP and COO of Sendmail.
"However, global organizations who rely upon e-mail as a mission-critical business application cannot move the e-mail backbone to cloud computing because of the requirements for guaranteed message delivery to the right mailbox," he told the E-Commerce Times.
Once a message is "cleansed" in the cloud and deemed ready for delivery, a modern message processing infrastructure is required to route the message according to centrally controlled requirements based on message content, recipient location or classification, or corporate governance policy, Vondrick explained.
This is not easy to do in a cloud environment — especially for enterprises that have multiple e-mail gateways in various locations; have various e-mail domain names due to mergers and acquisitions; engage in high-volume marketing promotions; or are concerned with preventing data leaks in outbound e-mail.
Companies with those particular circumstances might want to investigate a hybrid architecture that integrates low-value commodity applications in the cloud with an on-premise modern message processing infrastructure.
Uptime: Credit and Billing
The Internet, it hardly needs to be said anymore, never sleeps. Nothing is worse than hitting a newly recruited customer with the bad news that your service is not immediately available, Gene Hoffman, Chairman and CEO of Vindicia, told the E-Commerce Times.
The cloud computing model poses many challenges to merchants, he said, and one of the most critical of those is billing — a function that's usually considered a back-office operation.
"In the traditional PO-invoicing-check/wire transfer cycle of enterprise environments, if your billing system went down for a day, who really complained? But in a cloud computing environment where billing is often based on usage in minutes — if not seconds — issues surrounding billing suddenly become front and center," Hoffman said, "and online merchants need to think through the customer acquisition and retention implications of their billing environment as they adapt to this new computing model."
A merchant supporting a cloud computing model often has to support multiple types of business models, he pointed out. A merchant may bill by time, and the concept of time could be one-time or even subscriptions that are monthly, quarterly or even yearly. The merchant could also choose to support billing by usage — storage capacity is a good example.
"If a merchant bills based on per-minute usage and its billing system is down for even 10 minutes during a given week," Hoffman explained, "that outage could mean thousands of dollars in lost revenue — even if the cloud computing infrastructure is 'up.'"
The Dark Side of the Cloud, Part 1