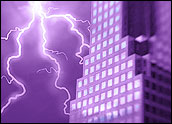 There are plenty of figures to show the efficiencies and cost savings that cloud computing can deliver, but here's one you're unlikely to hear during a sales pitch: The benefits of cloud computing are not linear with a project's progress.
That means if you only complete about 80 percent of the project, you can't expect 80 percent of the expected benefits. You might see 50 percent, if you're lucky, said Jim Ramsey, a director in PricewaterhouseCoopers' advisory practice.
"A lot of the economics behind cloud computing is based on the fact that companies are able to retire fixed costs, which may not happen if the project is not fully implemented," he told the E-Commerce Times.
Also, Ramsey noted, most projects realize ROI (return on investment) in the last mile, which is the piece of the project most likely to be unfulfilled if it doesn't go the distance.
Now, why would anyone be talking about failing to complete a project in cloud computing — the latest hot tech trend? Unforeseen glitches in implementation are a big reason, ranging from difficulties in integration, unexpected security issues, excessive downtime and, in some cases, internal resistance to change.
If this story line sounds familiar, that's because it is. Overly optimistic expectations were rampant when SaaS (Software as a Service) first appeared on the scene and ultimately could not eliminate some of the same problems that plagued on-premise applications, particularly complex ERP (enterprise resource planning) and CRM implementations.
The same issues now seem to be cropping up with cloud implementations; integration, in particular, is causing a lot of headaches.
On the bright side, history repeats itself. As with SaaS and the earlier tech projects, these glitches are likely to work themselves out as more complex projects and applications move to the cloud. That said, early adopters should consider themselves forewarned.
Growing Pains
Cloud computing is moving in the right direction, said Theresa Lanowitz, founder of Voke, "but like any new technology it has some growing pains to work through. These include integration problems, lost data and outages."
Better and more extensive testing in the cloud is necessary right now to develop more rigorous methodologies around these problems, she told the E-Commerce Times. "Eventually, I think we will see new tools come out that will help in the testing of the cloud architecture and design process. I also think we will see the notion of application life cycle moving to the cloud."
Those days are a while off. Right now, the industry hasn't even developed accurate measures of success or performance, Lilac Berniker, senior director of business development marketing at Fortisphere, told the E-Commerce Times.
"With the highly variable use of cloud resources, the dynamic nature of the cloud environment, and the challenge of accurate measures, companies will find that 'up' and 'down' are not sufficient metrics of success," Berniker said, "and once the decision to use the cloud becomes an automated choice between external and internal resources, apples-to-apples comparisons will be critical."
What You Don't Know
Until these fundamentals are in place, companies considering a cloud implementation have to realize a few facts about the current environment, said PwC's Ramsey.
For starters, cloud computing requires that applications live in a homogenous environment. "I don't think I could find a company today that runs in an homogenous environment," he commented.
To take the most advantage of Google's or Salesforce.com's cloud offerings, Ramsey said, a company has to standardize its applications and architecture.
At this point in cloud computing's life cycle, Ramsey continued, reliability is another factor to consider — especially for smaller companies. "With a large company like Amazon, it is okay to assume it has disaster recovery and redundant hardware and systems in place. But there are a lot of smaller providers coming to the market, and with these, you have to carefully vet their processes."
Companies also have to realize that they give up a lot of control in the cloud environment, he said. "The good news is that you can treat cloud computing like a black box, with someone else taking responsibility for a lot of the headaches. But you give up control over configuration and upgrades."
Internal Evaluation
Another problem common to outsourcing is that many companies are not aware of how exactly their IT resources are being used, Sonoa Systems CEO Chet Kapoor told the E-Commerce Times.
That is not the cloud computing provider's fault, of course, but it can lead to a delayed or failed project nonetheless.
"Companies need to recognize who is going through the front or back door," Kapoor cautioned. "Unfortunately, few companies have that level of visibility in their enterprise."
The Dark Side of the Cloud, Part 2