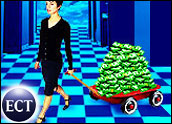 IT pay has been hammered by the reversal of stock option fortunes, increased overseas outsourcing and the dismal economy in general, but experts say technology workers can still command a decent salary in some fields without becoming CIO.
Analysts pointed to new technologies and programming — among them Java, XML, Web services, software on demand and Web-enabled applications — as areas in which good opportunities exist. In terms of sectors, those that continue to spend on information technology and therefore hold promise include financial services firms and banks, as well as government and healthcare.
In addition, although a trend toward outsourcing programming and other IT services is depressing many IT salaries, certain types of jobs are sheltered from such factors, and other areas are growing quickly enough that employers may be willing to pay a premium for skilled workers.
The New Way
Giga Information Group vice president Craig Symons told the E-Commerce Times that lower-level programming has been hurt the most by current conditions. Amid the carnage, though, he identified Java, XML and Web services as better opportunities than other areas of programming expertise.
Yankee Group program manager Andy Efstathiou agreed, telling the E-Commerce Times that by gaining experience with a new technology, such as Web services, software on demand or Web-enabled applications, IT workers can take a giant step toward a beefier paycheck.
Fresh Fields
In addition, although some job titles have decreased in value because of offshore contracting and outsourcing, numerous other jobs and functions remain untouched by such factors. "Companies are reluctant to take certain data or mission-critical applications offshore," Symons said.
For example, Efstathiou said, systems administration experience remains a strong asset for job seekers because, unlike programming, this task cannot be outsourced.
Likewise, according to Symons, data architects and security specialists are still in demand, so job applicants in these fields can demand higher compensation.
Shelter from the Storm
Symons noted that some sectors, such as financial services and healthcare, are more technology-intensive and are "pushing technology for a large part across the organization. That tends to bid up the pay in that space."
And Efstathiou said there are plenty of IT job opportunities in government, a sector that continues to spend on technology and that will lose more than half of its IT staffers to retirement over the next five years.
He added that although the tech job situation has not yet turned the corner, a shortage of skilled workers will likely recur within a couple of years, so the future outlook for IT jobs is not uniformly bleak.
The Right Companies
John Challenger, CEO of outplacement firm Challenger Gray & Christmas, told the E-Commerce Times that the best-paying IT jobs are with the best companies. "Look for a company that is number one in its particular niche," he said. "You're going to get a premium."
Challenger, whose firm reported a slowing rate of IT job cuts in the third quarter of 2002, said that the ISP (Internet service provider), biomedical and biotech, software and security, Internet security, memory and computer services industries all are beginning to see a turnaround.
"If growth is to continue, there will be some increases [in pay]," he said. "But these companies are trying to keep their costs down. If pay does go up, it will not be by much."