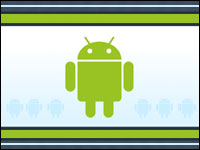 The Android platform tops the list in sales of smartphone operating systems for the first quarter of 2011, according to a report by market researcher Gartner.
Total smartphone sales accounted for 23.6 percent of global handset units overall, and various phones sporting Google's Android OS took 36 percent of that market. They sold more than 36.3 million units in the quarter. Next in line was Symbian, taking 27.4 percent of the market share. Following were Apple's iOS platform with 16.8 percent and Research In Motion's BlackBerry platform at 12.9 percent.
Rounding out the bottom was Microsoft. About 3.7 million smartphones carrying Redmond's OS were sold — a 3.6 percent market share — compared to the 13 million sold by RIM's BlackBerry, the spot just above it.
Other smartphone OSes took up the remaining 3.3 percent of the mobile market.
Not for Long?
Microsoft's numbers were low compared to its competitors, but the company and analysts say that is a passing trend. Microsoft's latest mobile platform, Windows Phone 7, is still a relative newcomer with less than a year on the market.
"Sales are an important measure of success, but for a new platform, customer satisfaction and active developer investment can be even more important leading indicators of long-term success," said a Microsoft spokesperson in a statement provided to the E-Commerce Times by Jackie Lawrence at Waggener Edstrom.
Redmond's confident that with its upcoming Nokia partnership, their market share will increase. The deal is set to make the Windows Phone 7 Nokia's main OS for its entire line of smartphones. For now Nokia favors Symbian, but the switch could happen as early as next year.
Presumably, the deal will cause Symbian to drop in sales, while Microsoft could climb from its current lower spot. Analysts at IDC and Pyramid Research tend to agree.
"Pyramid Research believes that Windows Phone will become the leading OS platform by the end of 2013, closely followed by Android. The partnership of Microsoft and Nokia will be the main driver of the future growth of WP," Stela Bokun, an analyst at Pyramid Research, told the E-Commerce Times.
Apple Success
Apple's iOS came in third in sales with 16.8 percent of the market, but Gartner was quick to point out that while not in the top spot, its numbers are impressive. Compared to the first quarter of 2010, iOS more than doubled its sales.
Some analysts doubt the iOS will see a rise to the top of the list.
"Considering the higher than average price of the iPhone, this is a remarkable result," said Carolina Milanesi, research vice president at Gartner.
Pyramid's Bokun agreed.
"Apple is targeting upper end of the demand and will eventually see declining market share in terms of units sold to end users. The price of the iPhone is too high to maintain the current market share," said Bokun.
Smartphone Future
Total smartphone sales are up 85 percent year over year, according to Gartner. It's expected these numbers will keep rising as smartphones become geared toward a more mainstream market.
New smartphone users are not necessarily as technologically engaged or connected as the first wave of smartphone consumers were. This means a great bargain on a smartphone or contract, and not necessarily the latest or most advanced features, will be a main selling point for these buyers.
This could keep platforms like Android on top in market share, since some manufacturers pair the OS with lower-priced phones.
"The smartphone market will expand greatly in the next five years, but the biggest driver of this expansion will be inexpensive models," said Bokun.