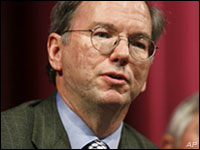 Nestled in between the news of some excellent quarterly earnings — namely a 29 percent increase in profit and revenue — Google dropped a bombshell on unsuspecting shareholders: Eric Schmidt will turn over the CEO reins to Larry Page, who will handle the company's day-to-day operations. Schmidt will stay on as executive chairman, while Co-founder Sergey Brin will focus on strategic projects.
The three have been working together for 10 years, equally involved in the company, Schmidt pointed out in a blog post.
They will continue to make the big decisions together, he said, but are taking this step to clarify their individual roles.
Brin "is an innovator and entrepreneur to the core" and the role of strategic projects suits him perfectly, noted Schmidt.
Page's greatest strengths are "product development and technology strategy," he added.
Google's shares were up Friday morning, the day after the announcement. Whether that was due to the earnings or the surprise management shuffle is unclear — although there are plenty of company watchers willing to opine one way or another.
Google did not return a request for comment to the E-Commerce Times in time for publication.
Schmidt Had to Go
One school of thought is that Schmidt has had more than his fair share of PR and technological blunders as head of Google, and it was time for him to go. Some statements he has made to the media — e.g., "If you have something that you don't want anyone to know, maybe you shouldn't be doing it in the first place" — have attracted unwanted attention to Google's privacy policies and search practices.
Then there was the disastrous launch of Buzz.
Google's steady loss of key talent to rival Facebook is another sin often laid at Schmidt's feet. The reason for the exodus, many say, is that the company is no longer technically innovative enough.
"Google is losing engineers frustrated by a shift in the culture that normally happens when a company gets as big as Google is," Seth Harris, technology practice head at Cook Associates, told the E-Commerce Times. "Engineers fear the company is not moving fast enough and say it's harder to get time with leaders; many have already made money with Google and see opportunities to move to big private tech firms expected to go public in 12 to 18 months."
There has also been talk of tension between Schmidt and Page on competing priorities, Harris added, with Schmidt emphasizing the need to protect margins and Page pushing for more innovation.
"Google has to do both but is losing talent and facing tough competition, so the balance is tough to reach," he concluded.
All of this is true, but replacing Schmidt with Page is not necessarily the answer, said David Dalka, a digital strategy consultant and keynote speaker.
"Ideally, Google needed to bring an executive that understood search and how that related to the businesses that they serve and their customer service," he told the E-Commerce Times.
Yahoo, he pointed out, had a go at bringing back a founder as CEO, and it didn't exactly lead to optimal results.
Bottom line, he said — the reshuffling is perplexing. "The company needs to mature existing business processes. I don't see how bringing back technical founders is going to achieve this result. Google's biggest threat is from within, not from competitors."
What About End-Users?
In the big picture little will change, Peter Cohan of Peter Cohan & Associates, told the E-Commerce Times.
"Google will continue to dominate in search advertising and Android will continue to boost its presence in mobile search. Having Page as CEO is not going to change that."
This is also what is not going to change because Page is CEO, he added: Google's competitive position against Facebook.
"A lot of these pieces are set and won't change no matter who is at the helm," Cohan maintained.
Where Page's new role will make a difference, he said, is in determining whether Google will develop another leg to its business — and continue changing unprofitable startups as it does so — or whether it will settle down and focus on the basics.