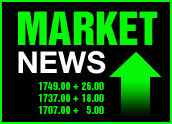 Technology shares led stocks higher today as more relief in the oil price market and some company-specific news fueled a modest rally.
The Nasdaq was the strongest performer on the day, gaining 26.71, or 1.31 percent, to close at 2,061.27, its highest level since April. The Dow was up 84.36 points, or 0.81 percent, finishing the session at 10,469.84, enough to push it into positive territory for the calendar year for the first time since June.
The S&P 500 also moved higher, tacking on 10.57 points, or 0.91 percent, to 1,173.48. The rally came on somewhat light volume on the Veterans Day holiday, which saw major bond markets closed.
Up and Down
The tech move was led by Intel, which rose by 1.3 percent after announcing its longtime president and COO would take over as CEO next May. Shares of Hewlett-Packard were up 2.6 percent, and Dell stock was up 1 percent ahead of that company's earnings announcement after the close of trading.
Moving lower were both PeopleSoft and Oracle shares after the first company rejected the so-called "final" US$24 per share buyout offer from Oracle. Nortel Networks also had a bad session, losing more than 7 percent after it said it might be de-listed by the New York Stock Exchange for failing to provide timely financial reports.
Oil Down
All stocks got a boost from the continued retreat of oil prices, which fell $1.44 in New York Mercantile Exchange trading to close at $47.42 a barrel.
Outside the tech sector, investors were paying attention to Blockbuster after it announced it had offered $700 million for competitor Hollywood Entertainment. Also, retailer Target posted a stronger-than-expected third quarter earnings report.