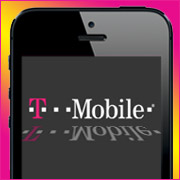 T-Mobile stock hit a five-year high Thursday on a better-than-expected second-quarter earnings report and news that it added more than 1 million new customers in the period.
Shares continued to trade above the US$25 mark on Friday.
Investors seemed most energized by the company's strong customer growth. The 1.1 million net new customers included 688,000 contract customers, compared with the 557,000 post-paid customers it lost during the same time a year ago. That brings T-Mobile's total customer base to 44 million, and the company said it expects to add another net 1 million to 1.2 million by the end of the year.
The new customers translated into larger sales gains. T-Mobile sold 4.3 million units during Q2, a 71 percent increase from the same time a year earlier.
That growth was largely thanks to its new "un-carrier" strategy, said President and CEO John Legere, which gets rid of traditional service contracts and allows customers to upgrade their phones more often than subscribers to competitors can.
Although revenue was up 27.5 percent to $6.23 billion, T-Mobile reported an overall loss of $16 million in the quarter, compared with a $207 million profit it posted during the same time a year ago.
Redefinition Under Way
Although T-Mobile is one of the four major players in the U.S. wireless space, it wants to be seen as the outlier that's shaking things up, said wireless industry analyst Jeff Kagan.
"T-Mobile is redefining itself under new CEO John Legere," he told the E-Commerce Times. "We have seen quite a few major changes he has made since his arrival less than a year ago."
If there is an industry that could use some shaking up, it would be telecom, said Trip Chowdhry, senior analyst for Global Equities Research.
"This is an area where carriers are finding that with the demand for smartphones and the need to grow out their networks, they have to charge more and add on the fees and extras," he told the E-Commerce Times.
"But the average customer gets fed up very easily with those extras," Chowdhry noted. "All the carriers understand that, but T-Mobile is the major one that is trying to rework that a little."
Something to Prove
That aggressive strategy in going after customers seems to be paying off to some extent, said New Street Research analyst Jonathan Chaplin, but the company still has a lot to prove in the crowded wireless space.
"The quarter and guidance were solid," he told the E-Commerce Times. "However, the question remains as to whether T-Mobile can sustain the performance in postpaid as the iPhone buzz fades and competitive intensity rises."
It's too early to tell whether the strategy will lead to steeper financial losses, or if the influx of customers and alternative pricing plans can help T-Mobile restore some profitability, said Kagan. With one solid quarter under its belt, T-Mobile hasn't propelled to a leadership position in the industry.
"This quarter does not change anything for the major competitors, but it could be seen as a warning shot," he added.
"Change does happen in this industry — competitors know about this and stay alert for it," Kagan noted. "We will have to see quarter after quarter of improvement before we are sure there is change in the air. Otherwise it could just be a one-time event."