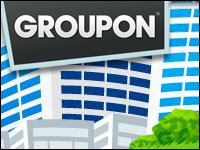 Groupon stock climbed more than 27 percent Thursday following Wednesday's release of a second quarter earnings report that beat expectations, and the announcement that cofounder Eric Lefkofsky was officially named CEO.
The company stock bounced more than 20 percent in after-hours trading following the earnings announcement. It cooled slightly Thursday afternoon, closing the day at $10.61. The stock is still far off its $20 IPO price, but has rallied since Lefkofsky and board member Ted Leonsis took over as interim coCEOs earlier this year after former CEO Andrew Mason was ousted.
Investors seemed pleased that Lefkofsky is now permanently on board as leader at Groupon, and with the quarterly results that slightly beat Wall Street expectations. The company reported a Q2 net loss of $7.6 million, or 1 cent per share, compared with the $28.4 million it posted during the same time last year.
Groupon earned $608.7 million in revenue on the quarter, up 7 percent from a year ago. Analysts had expected closer to $606.1 million. Revenue growth in North America was 45 percent, which helped offset a 24 percent decline in Europe, the Middle East and Africa, and a 26 percent decline in the rest of the world.
The company continues to add mobile customers. In June, nearly 50 percent of North American transactions took place on mobile devices, compared with about 30 percent from a year ago. Worldwide, more than 50 million people have added mobile apps. Lefkofsky said Groupon was pleased with the mobile acceleration, which was part of the company's overall strategy of becoming an e-commerce marketplace.
Along with the earnings and CEO announcements, Groupon introduced a $300 million share repurchase program that will roll out over the next two years.
Cheers for Lefkofsky
Investors were encouraged by the company's solid performance in the quarter, Arvind Bhatia, analyst at Sterne Agee, told the E-Commerce Times.
"Results were driven by acceleration in billings in North America and an increased mix of mobile in North America," he said. "A new $300 million buyback and the appointment of Eric Lefkofsky as the permanent CEO bode well for the stock."
That solid quarter was thanks in part to Groupon's strategy to get back to the basics, said Venson Kuchipudi, digital marketing strategist and president and CEO of Life Net.
"Groupon was reducing expenses, focusing on revenue and growth," he told the E-Commerce Times. "The biggest thing they did right was focus more on pull versus push deals with consumers and targeting the mobile space."
For all that refocusing, though, investor excitement was primarily about the stability that comes with naming a CEO, said Kuchipudi.
"It's all about Eric Lefkofsky," he maintained. "The earnings numbers met expectations, but were not stellar and barely squeaked by. Also, they are on an upward trend, at least in North America, which carried the overseas operations."
Challenges Ahead
Taking charge of those markets outside of North America is one of the company's biggest opportunities for growth — or for a change in focus, said Kuchipudi.
"The overseas market is the biggest challenge right now," he pointed out. "They still haven't turned Groupon around there. They might need to rethink their strategy overseas and maybe pull out of some markets. Daily deals as well as mobile usage are quite different overseas than they are in the U.S."
Figuring out that market will be critical going forward, said Patrick Boyle, e-commerce strategist and founder of NuCellar, because to get a similar rise out of the stock in the next few quarters, Groupon's numbers will have to be a little more impressive.
"They're not out of the woods," he told the E-Commerce Times. "The new CEO will have maybe four quarters to show some real growth. What we're seeing now is just the end of Act I, the firing and replacement of Andrew Mason."