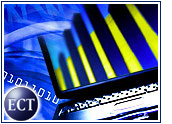 Companies that want to take advantage of the opportunities posed by e-commerce will have to do a better job managing dynamic pricing strategies, intellectual property rights, and partnership relationships, researchers at the University of California-Irvine Graduate School of Management announced Thursday.
By developing their management techniques in those areas, traditional manufacturing firms will improve their standing with high-tech firms, said Kevin Zhu, UC Irvine assistant professor of information technology.
To date, Zhu said, e-commerce has reduced costs forNew Economy and high-tech firms, but actually has increased costsfor Old Economy or traditional manufacturing firms.
In a few more years, the Old Economy companies willcatch up in terms of Internet capabilities, back-endinformation technology resources, information-technology-familiar staff anddecentralized management styles, Zhu predicted.
Price is Right
The management of dynamic pricing strategies is key to e-commerce success, according to related research conducted by Vijay Gurbaxani, UC Irvine professor of information systems and management.
Managing dynamic pricing strategies — which involve constantly analyzing data and changing prices — is one of major changes brought by moving transactions to the Internet.
Indeed, e-businesses are finding that it is critical to change prices oftenin response to fluctuating supply and demand, the research showed.
Patent Parade
Also critical to e-business success is the management of intellectual property rights, UC Irvine found.
Examples of intellectual property accomplishments by e-commerce firms include the patents obtained on Priceline.com's reverse auction and Amazon.com's 1-Click shopping system.
Using an e-business patent has become the weapon of choice for Internet giants, with a series of patent cases between powerhouses determining who can — and who cannot — use certain e-commerce shopping technologies.
Not only is digital rights management the focal point of a number of high-profile lawsuits, the development of digital rights management tools is a hot bed for venture capital investment.
Howdy, Partner
The UC Irvine researchers also found that managing partner relationships is crucial in the development of online business-to-business (B2B) exchanges.
The researchers noted that B2B exchanges often give partners access to proprietary information.
To build trust between cooperating companies — and prevent opportunistic behavior — partners need to be able to develop appropriate rules of exchange and maintain the relationship at the same time, the professors found.
Big Picture
In other research, Kenneth L. Kraemer, professor of information systems and director of UC Irvine's Center for Research onInformation Technology and Organizations, found that while developed countries are throttling forward with e-commerce, developing countries arelagging.
The result is an increasing riftbetween the two, which goes against prevailing thoughtthat the Internet is actually bringing the worldtogether.
"The problem is that developing countries don't havethe resources or skills it takes to get on theInternet," Kraemer told the E-Commerce Times. "Theyhave neither the adequate infrastructure to create thedemand for the Internet, nor the computer literacy intheir populations to use it."
Ready or Not
In a recent presentation to government officials, Kraemer unveiled researchthat suggested that the world could be divided intothe following five categories of e-commerce readiness:
Innovators, or about 13 percent of countries, including the United States, Singapore and Germany.
Fast-followers, or about 11 percent of countries, including Italy, Hungary and Kuwait.
Up-and-comers (20 percent), including South Africa, Chile and Russia.
Beginners (19 percent), including China, Egypt andthe Philippines.
Laggards (37 percent), including Kenya andVietnam.
Kraemer argued that over half the world consists of e-commerce beginners and laggards because of the non-existent or insufficient nationalpolicies on Internet issues. Kraemer saidthat the technology gap will continue to broaden aslong as the governments of developing countries take passivestances on Internet advancement.
Not One World
Kraemer said his research debunks the "myth of democratization," or the idea that globalization of information technology is closing the gap between rich and poor nations.
"Computers and information technology actually reinforce the existing power structure," he said. "The Internet may increase the Digital Divide, not decrease it."
Kraemer said that it is critical to change the business practices in developing countries.
"It's not just a matter of giving technology to poor countries," he said. "A country needs institutional and organizational changes — open, honest, merit-based bureaucracies instead of corrupt ones. These institutions, once created, can make efficient use of computers."