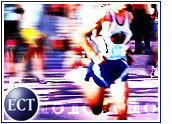 Technology support and services firms are leading U.S. small businesses in using and investing in the Internet, but manufacturing firms are a surprising second, according to a report released by IDC on Wednesday.
"There has been a lot of guessing (about small business Internet usage)," IDC senior research analyst Merle Sandler told the E-Commerce Times. "This index is a useful way of quantifying some of those guesses and putting them in perspective."
While the technology support sector's dominance did not surprise Sandler, small manufacturers' second-place index ranking did just that.
Manufacturing firms, often deemed late-adopters of technology, have incorporated the Internet into many facets of daily operations more effectively than anticipated, according to the IDC report, which compared small businesses from 14 industries using IDC's Small Business Internet Index of Opportunity.
Head of the Class
With specific regard to e-commerce and online buying activity, the technology support sector showed the most bullish activity, while wholesale manufacturing showed more widespread usage than expected, according to the report.
"These findings were somewhat obvious, with the tech-savvy firms leading the way," said Sandler. "But the Internet penetration in the manufacturing sector stands out as the most surprising."
Sandler said that the e-commerce findings were largely anecdotal and were not included in the overall index ratings because they tended to distort the index.
Survey Says
IDC's small business index is based on current levels of Internet activity as well as plans for the next 12 months.
The index number is derived from how much a firm is above or below the norm — taken to be 100 for all small businesses — on three key metrics: personal computer penetration, Web home page usage, and planned Web home page usage.
The top five ranking industries and their index ratings were as follows:
1. Technology support/services – 183 2. Manufacturing – 142 3. Business/other services – 1284t. Legal – 124 4t. Insurance – 124
e-Ties That Bind
Looking 12 months ahead, Sandler does not anticipate much shift in the overall index rankings or in the relative e-commerce activity among industries. However, it is near certain that firms without a single tie to the Internet will become more and more scarce, Sandler said.
"I do expect that the number of firms without any direct or indirect revenue from the Internet will decrease over time," she said.
Follow the Leader
Wednesday's report was derived from the small business technology study conducted annually by IDC, and is the first time the results were used concertedly to analyze Internet usage by vertical market segments.
According to the report, laggards in Internet usage include businesses in the agriculture/mining industry, registering an index of 41.
"The index really shows where different industries are in their Internet evolution," said Sandler. "Some equipment and service suppliers might go after early adopters because they have already demonstrated their willingness to embrace new technology and will not require a hard sell. Others will appeal to the folks who have been slow to embrace the Internet. There are plenty of opportunities for all."