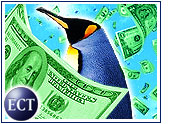 Linux distributor Red Hat (Nasdaq: RHAT) is set to launch a new e-commerce suite built on an open-source platform, the company told the E-Commerce Times Friday.
The new product, called simply Red Hat E-Commerce Suite, is aimed at mid-size businesses that want to expand their e-commerce platform to support more transactions, enable more complex merchandising and integrate with their backend systems, Red Hat said.
Many mid-size companies want "more scalability, functionality, performance and customizability, but they don't want to endure the money or the complexity of the higher end systems," Red Hat marketing director Charles Gold said. "It's a significant but underserved segment of the marketplace."
Like typical open-source platforms, the individual inner components of Red Hat's new suite, such as the Apache Webserver, the Red Hat Linux Operating System and a new version of the open-source e-commerce platform called Interchange 4.8, are available on the Web for free.
Open Wallet
The entire suite, however, will include a Web-based configuration tool called CommerceLauncher — which Red Hat said will install all the components in a matter of hours — and a year's worth of product upgrades and Web-based support.
The entire suite will be available to businesses on August 22nd for US$275 per month for a minimum of 12 months or a pre-paid charge of $2,995 for a 12-month subscription.
"The Red Hat E-Commerce Suite fills a significant gap between expensive, complex enterprise e-commerce applications and entry-level e-commerce offerings," IDC analyst Michele Rosen said.
Hands On
Gold said that the advantage of open-source platforms when compared to proprietary ones is the fact that the technology is always evolving, with thousands of developers optimizing the platforms to enhance their reliability, performance and functionality.
"We're very committed to integrating the solutions of the open-source community," Gold said. "Importantly, customers will receive updates on a regular basis because it's sold as a technology subscription."
Gold said that Red Hat's revenues from the suite will arrive not only in the form of subscriptions payments, but also in payments for the suite's tech support, professional Web site consulting, managed hosting and training services.
Coming Soon
Gold also said that Red Hat's emphasis moving forward will be on creating business products and services that are designed to solve specific Internet and IT infrastructure problems. Gold also said he expects the functionality of Red Hat's new suite to evolve in the coming months.
"You'll see more things along the way of content management and collaborative e-commerce," Gold said.