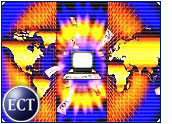 The longer that business-to-business (B2B) firms are online the more likely it is that they will achieve profitability, according to a study released Tuesday by ActivMedia Research.
The study revealed that 32 percent of all B2B companies currently online are turning a profit. However, 46 percent of the B2B firms that have been online for three or more years are profitable.
"Whether a Web site is increasing revenue or cutting costs, the Internet opens doors to increased profitability," said ActivMedia vice president Harry Wolhandler.
Currently, 18 percent of B2B businesses that have an online presence actually sell merchandise via the Internet, according to ActivMedia. However, the research firm predicted that in the next two years, more businesses will begin selling online in order to survive.
ActivMedia said that, in general, businesses selling to other businesses, instead of to consumers, are usually large entities with complex organizational structures, factors that may be contributing to their relatively slow adaptation to the Internet.
Small Expectations
ActivMedia said that in contrast to the business-to-consumer (B2C) sector, most B2B firms on the Internet — particularly new arrivals who believe they were forced to establish an online presence — do not expect their online revenues to ever exceed their offline revenues.
The "Online Success Strategies in B2B Markets" study found that half of all B2B firms doing business online and offline reported that their online orders were smaller in total than offline orders. Another third said that the order size was the same.
ActivMedia also said that firms who have been online longer are more likely to be convinced about the benefits of e-commerce because they have seen what the Internet can do for the reach of their businesses.
Missing in Action
Previous studies focusing on the perspective of the buyer, rather than the seller, have illustrated the slow growth of B2B online.
A report released earlier this month by Jupiter Media Metrix found that corporate purchasing agents say that they plan to make 20 percent of their purchases online in the next year.
Notably, 60 of purchasing agents surveyed by Jupiter said that the primary reason why online B2B spending is not growing faster is that their preferred suppliers do not currently sell on the Internet.
"Purchasing agents understand why they should be using the Internet for their B2B purchases, but they're not quite ready to move online," said Jupiter analyst Jean Gabriel Henry. "They will get there once suppliers that they currently purchase from move online and educate them on how to use their system."
Planning Ahead
Although many firms are slow to adapt e-commerce, it appears that an increasing number of businesses plan to make at least some of their purchases online in the near future.
A report released last week by Gartner said that B2B e-commerce revenues reached $433 billion in 2000, marking a 189 percent increase over the $145 billion spent online by businesses in 1999. Gartner is predicting that online B2B spending will reach $919 billion in 2001.
Executives are also bullish on the benefits of B2B, according to a December study by consulting firm Arthur Andersen. Half of the executives surveyed by Andersen see digital marketplaces as a "critical means of competitive positioning" in 2001.
Two-thirds of those surveyed had or plan to have an e-procurement system in place this year.