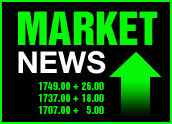 Stocks gained more ground today as investors looked to put a dismal January in the rear view mirror and showed little worry about an imminent decision on interest rates from the Federal Reserve.
The Dow was up 62 points, or 0.59, to 10,551.94. The Nasdaq gained 6.29 points, or 0.30 percent, to 2,068.70 and the S&P 500 was up 8.14 points, or 0.69 percent, to 1,189.41.
Interest Rates
The gains came as the Federal Reserve began a two-day meeting that will likely culminate with a decision on rates sometime tomorrow. Virtually all forecasts call for another quarter-point hike in the overnight rate, which would be the sixth straight hike since rates stood at the all-time low of 1 percent in June of 2004.
However, investors seemed undaunted by that prospect, focusing instead on a plan announced by financial services giant American Express to spin off its financial planning unit into a separate company. The company's shares traded briefly at a four-year high on the news before profit-taking set in.
A report from the Institute for Supply Management said that U.S. factories marked their 20th straight month of expanding activity in January as demand for American goods from overseas consumers remained strong. The index did fall slightly and fell short of forecasts, a sign that growth might be waning.
Dollar, Oil
Separately, the Commerce Department said construction spending jumped 1.1 percent in December, helping to make 2004 the best year for building activity growth since 1996. For the entire year, building activity increased 9 percent to US$998.4 billion.
The economic data helped the dollar hold steady against the yen and euro, and there was additional good news from the energy trading pits, where crude oil futures fell $1.08 to $47.12 per barrel.
In addition to the Fed, investors will have plenty to keep their eyes and ears open for this week, with President Bush set to lay out his agenda in the State of Union address to Congress on Thursday and the January employment figures due out first thing Friday.