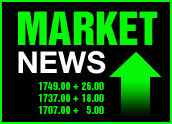 Stocks moved higher today after the Federal Reserve held true to form and raised interest rates for a fifth time this year.
"Output appears to be growing at a moderate pace despite the earlier rise in energy prices, and labor market conditions continue to improve gradually," the Fed said in the statement that accompanied the rate hike. "Inflation and longer-term inflation expectations remain well contained."
The Fed also indicated it was comfortable moving forward with a "measured" approach to raising rates, saying that it felt the risks of inflation and the risks of economic slowdown were about equal.
Stocks Rally
The rate hike and the statement helped extend a modest rally on Wall Street. Stocks finished higher across the board, with the Dow gaining 38.13 points, or 0.36 percent, to 10,676.45, the Nasdaq up 11.34 points, or 0.53 percent, to close at 2,159.84 and the S&P 500 rising 4.70, or 0.39 percent, to 1,203.38.
Also moving stocks was word that the rumored merger between Sprint and Nextel might be consummated as early as tomorrow, even as reports suggested that Verizon would link forces with UK-based Vodafone to launch a pre-emptive bid to buy Sprint. Sprint shares were up 2 percent, while most of the other wireless carriers fell on the speculation.
Stocks were largely unaffected by news that the U.S. trade deficit spiked to record levels in October. The trade gap rose 9 percent in October and for the first 10 months of the year was more than US$500 billion, surpassing the record level set for all of 2003.
Oil Prices
The gap grew despite the eroding value of the U.S. dollar, which makes American-made goods more affordable to overseas buyers. However, demand from inside the U.S. for foreign goods, particularly from China, and the high cost of oil for much of the period, helped drive the deficit higher.
Oil prices slid most of last month, but moved higher today as investors banked on winter weather settling in across much of the U.S. and driving demand for heating fuels.
Crude futures rose 81 cents to $41.82 per barrel on the New York Mercantile Exchange.