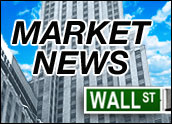 Stocks tread water for the second straight day today as investors remained cautious ahead of tomorrow's meeting of the Federal Reserve Board, where the future path of interest rate hikes are expected to be laid out.
The major averages were mixed but all closed within 5 points of where they began the session. The Dow fell 4.94 points, or 0.05 percent, to 10,386.37, while the Nasdaq gained 4.08 points, or 0.20 percent, to finish at 2,043.33. The S&P 500 was lower by 0.81 points, or 0.07 percent, closing at 1,164.08.
Even continued good news from the crude oil front was unable to spark a rally in stocks.
Watching the Fed
Oil futures trading on the New York Mercantile Exchange fell again today, losing $1.72, or 3.5 percent, to close at $47.37 per barrel, the lowest closing price since late September. This drop came as most traders were predicting another strong report from the Energy Department, which turns in its weekly tally of U.S. fuel supplies tomorrow.
The Fed is widely expected to issue another quarter-point increase when it meets tomorrow and to leave its policy statement, which indicates a bias toward continued rate hikes, unchanged.
The increase would be the fourth this year and would double the federal funds, or overnight, rate, from its 46-year low of 1 percent where it was in June to 2 percent now. A fifth increase could come as soon as December 14 when the Fed meets again.
Corporate Earnings
Investors are apparently concerned that interest rate hikes will put a damper on corporate earnings and have let stocks cool after a 300-plus-point run-up last week.
In the lone bit of hard economic data released today, the Commerce Department said wholesale inventories rose 0.5 percent in September, the slowest rise since April. The tepid growth might indicate some wariness about the future direction of the economy, the department suggested.