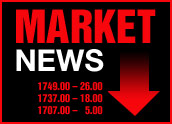 Stocks lost ground today, with news about specific stocks denting the Dow and a lack of impetus for buying keeping other indexes from moving higher.
The limited economic news available was mostly good, with the National Association of Realtors saying that sales of existing homes surged to record high levels in November as buyers scrambled to take advantage of low interest rates before they disappear. The NAR said homes sold at an annual rate of 6.94 million units, up from 6.76 million in October.
No Profit-Taking
However, stocks were impacted more by individual company news. Word that the Chinese government would hold off on buying aircraft next year dealt a blow to shares of Boeing, which in turn kept the Dow in the red. Boeing lost 2.2 percent on the session, with a spillover effect for other companies exposed to the sector, including United Technologies and Honeywell.
At the close, the Dow was at 10,829.19, down 25.35 or 0.23 percent on the session. The Nasdaq lost just 0.19 points, or 0.01 percent, to 2,177.00 and the S&P 500 lost 0.09 points, or 0.01 percent, to 1,213.45.
Stocks were still trading just below their highest levels in three years, which were reached yesterday and some market analysts said the lack of a major profit-taking sell-off was a good sign that markets could sustain current levels. Trading activity, which has been light so far this week, is expected to remain in low gear through Friday, with many major institutional trading desks closed.
Oil Makes Comeback
Word that U.S. oil inventories dipped last week and reports of a car bomb that exploded in Saudi Arabia sent oil futures sharply higher for the first time in recent sessions. Crude futures were up US$1.98 on the day, to $43.75 in New York trading.
The dollar, meanwhile, managed to gain back some recent losses against foreign currency, climbing 0.1 percent against the euro and 0.7 percent versus the yen.