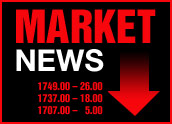 Consumers are increasingly pessimistic about the economy and their own job prospects, according to new data that sent Wall Street lower to close out an otherwise strong month for U.S. stocks.
Though the latest consumer confidence report hit stocks today, the markets still managed to post their best monthly performance of the year in November. The Nasdaq posted the best performance for the month, gaining more than 6 percent. The Dow was up 4 percent for the month and the S&P 500 up just under 4 percent. Much of the gain was made in a week-long rally immediately after the presidential election.
Analysts Expectations
The month ended with a whimper, however. Today, the Dow fell 47.88 points, or 0.46 percent, to 10,428.02. The Nasdaq was off 10.06 points, or 0.48 percent, to 2,096.81 and the S&P 500 shed 4.75 points, or 0.40 percent, to close at 1,173.82.
The main culprit appeared to be the latest reading on consumer sentiment from the Conference Board, which showed the fourth straight month of decline in November. The closely watched index fell to 90.5, the lowest reading since March. Most analysts expected the index to rise.
The dour consumer outlook — most of the decline was attributed to lowered expectations about future business and job conditions — trumped a revision of the nation's gross domestic product to reflect faster economic expansion.
The Commerce Department said the economy grew at an annual rate of 3.9 percent in the third quarter, better than the 3.7 percent rate reported last month.
Oil Retreat
Oil prices eased as traders hedged their bets ahead of tomorrow's report on U.S. energy stockpiles. Oil traded lower by 63 cents per barrel in New York, closing at US$49.13. For the month of November, oil was lower by just under 5 percent.
The consumer confidence report echoed overseas as well, sending the U.S. dollar to another record low against the euro, though the greenback did manage to gain back some recent losses against the yen.