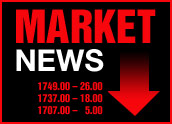 Stocks limped to the finish line today, closing out the week with a dismal session amid pressure from resurgent oil prices and word that another pharmaceutical company acknowledged potential problems with one of its main products.
Trading was heavy on Wall Street on what market watchers call a quadruple-witching day, when because of the alignment of the calendar, four different classes of stock futures and options expired all at once.
At the close, the Dow Jones Industrial Average was down 55.72 points, or 0.52 percent, to 10,649.92, the Nasdaq had lost 10.95, or 0.51 percent, to 2,135.20 and the S&P 500 fell 8.99, or 0.75 percent, to 1,194.22.
Oil Prices
The losses were not enough to wipe out gains carved out during the week, with the Dow and S&P 500 both up a full percent for the week and the Nasdaq up 0.6 percent.
On Wall Street, the drug sector was hit hard by news that Pfizer's own clinical trials of its Celebrex product had show some risk for heart problems in some patients. The drug is widely prescribed to treat arthritis, as was competitor Merck's Vioxx, which was pulled from shelves earlier this year for the same reason.
Pfizer shares lost as much as a quarter of their value during the session, but recovered some of their losses late in the day to finish off 14 percent.
A report from the Labor Department showed that inflation largely remained in check at the consumer level. The report found that the Consumer Price Index was up 0.2 percent in November as a drop in gasoline and other energy prices helped keep prices calm after at a 0.6 percent jump in October.
Annual Inflation Rate
However, some analysts pointed to the annual rate of increase, which found that 11 months into 2004, the CPI has risen at a 3.7 percent annual rate, nearly double the 1.9 percent rise for all of 2003.
The CPI rise, and the resulting likelihood that interest rates will continue to rise in 2005, helped the dollar perform better against the euro and the yen today as well.