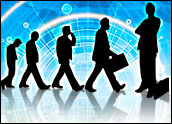 When in doubt about buying a stock, ask a friend — or rather, a million friends, Marcus New says. New, 38, has launched — relaunched, actually —Stockhouse.com, a community of investment experts who provide input on stocks that are hot, lukewarm or downright pestilent.
Stockhouse.com, a product of Stockgroup Information Systems, has been around 10 years. However, New, who founded Stockgroup Information Systems in 1995, has reformulated Stockhouse.com to conform with his vision of a wellspring of investment expertise.
Stockgroup purchased Stockhouse.com in 2002. New considers the site a marriage of eBay andiGoogle. "This is a tool for a retail investor who is not a professional like a broker or buyer," he told the E-Commerce Times. "This is for every guy that owns stock — that has a 401k."
The site averaged 800,000 unique visitors per month during its testing phase, and that is likely to increase to more than 1 million when it moves to its final market-ready format in the spring, said New.
Developing a Reputation
It will provide a unique forum for active market participants to provide qualified investment analysis, he noted. "When you look at retail investors, very few make their own decisions anymore. We create content for retail investors. We also have brokerage firms and media companies that like what we do."
A number of large companies have licensing agreements with Stockhouse.com: Facebook, iGoogle, Raymond James, Reuters and CanWest are among Stockgroup's corporate partners.
There are a number of investor communities already up and running, including The Motley Fool and TheStreet.com; however, Stockhouse.com has taken the idea of community in a new direction, New said, with its investor reputation system. The idea took two years to implement, and much of that time went toward developing the reputation-filtering system.
That feature is crucial. "With some sites, you don't know what information is good and what is spam," noted New, whose company has 85 employees. "Now, investors can share what they know and rate content for quality."
Citizen Journalism
Citizen journalism is the foundation of the plan, he added. "The wire services and newspapers all have online business journals, but there's still a big gap in the market for information. If you look at the top 2,000 stocks in the U.S., you'll see retail investors don't have access to that content. So, our community is all about users going there, and it's created by people like you and I."
Even the largest business organizations have the manpower to cover perhaps just 60 or 70 of the top stocks; however, the Stockhouse community can provide much wider coverage, New commented.
"Obviously, the cost structure for creating it is very, very low; the problem with user-generated content is quality. You get a bunch of spam and a lot of really good stuff all mixed in a big pot," he added.
Filtering out useless information became the challenge, New said. "We said if we could solve the quality problem, we could create the biggest stock information site in history."
All information entered is rated for quality. "We created the first reputation system on the stock market for investors that was very similar to eBay," he added. "If you go there, the buyers and sellers are all rated by experiences. The people with the lowest quality will either disappear or improve their quality."
A Catchy Concept
The idea is a good one, although it will take some time to see how well this particular system works, said Ron Shuttleworth, a technology analyst with Jennings Capital.
"The impact could be substantial," he told the E-Commerce Times, adding that it helps that Stockhouse.com already had a community on which to build.
"Unlike other sorts of social communities that are formed from scratch, these guys have had this community for quite awhile," Shuttleworth noted.
However, that's also a risk. "When you introduce change to a community, there are always bumps in the road. Some people don't like change," he remarked.
Nevertheless, the concept of building reputation-based communities is gaining steam. "The whole sector is probably heading toward improving the overall value of the content," Shuttleworth concluded.