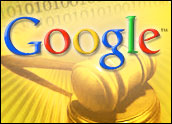 When Google settled with the U.S. Department of Justice for US$500 million over accusations that it allowed Canadian pharmaceutical companies to illegally place ads on its network, it may have thought its troubles with this issue were over. It was wrong.
A shareholder has filed suit against the company, alleging Google breached its fiduciary duty by facilitating illegal imports of prescription drugs. It also maintains that Google filed false annual reports from 2003 to 2009 by not disclosing the revenue from this improper advertising, according to Bloomberg, which obtained access to the court documents.
The case, McKenna v. Page, was filed in the U.S. District Court, District of Northern California, but as of Tuesday afternoon, the documents were not available for viewing online.
The announcement last week that Google had agreed to pay the half-a-billion-dollar settlement — the largest ever in the U.S. — followed a multiyear investigation of Canadian online pharmacies' placement of ads through Google's AdWords program to target consumers in the United States.
The ads encouraged the illegal importation of controlled and noncontrolled prescription drugs into the U.S., according to the Justice Department.
Google did not respond to the E-Commerce Times' request for comment in time for publication.
Class Action Status
Based on the information available, the shareholder suit has class action status written all over it, said R. Matthew Cairns, a partner with Gallagher Callahan & Gartrell and president of DRI-The Voice of the Defense Bar.
"It seems to me this will be a precursor to a class action lawsuit on behalf of Google shareholders," Cairns told the E-Commerce Times.
Google, though, has a reasonable case to make, despite its settlement, he said.
"As far back as 2003, Google was trying to prevent rogue pharmacies from using Adwords for fraudulent schemes. It just couldn't keep up with their tactics," said Cairns, citing an example of an ad that would substitute the "c" in Prozac with a "k" to get around Google's filters.
Another matter to consider: Google's stock price does not seem to have been affected by the investigation and settlement, which is a key concern for shareholders' and any damages they might win, noted Cairns. "It is still roughly the same as what it was in May when all this came to light."
False Revenues?
The issue of falsely stating revenues may also be a nonstarter. It is difficult to imagine Google deliberately falsifying records given the draconian sanctions the Securities and Exchange Commission can levy against the CFO, who must sign the documents, thanks to Sarbanes-Oxley, noted Peter S. Vogel, a trial partner at Gardere Wynne Sewell.
"To do so would be ill-advised at best," he told the E-Commerce Times. "If I had to guess, I would say Google has been complying with its obligations."
Indeed, Google would be a fool to risk everything for what is a relatively small amount, Cairns said.
The $500 million sum was arrived at by what Google was supposed to have earned in revenues from the ads and the pharmaceutical companies' profits, he noted. "That is a drop in the bucket for Google."
What Else Did You Misrepresent?
It may be that the shareholder is just fishing now, Vogel suggested.
"Google claimed it wasn't doing anything wrong for years on this issue," he recalled. "Then, when they finally reach a settlement, all of a sudden they in effect admit that 'oh yes, we've done something wrong.' So it is fair for a shareholder to believe that if Google wasn't being honest about these ads, then it might have misrepresented material financial results as well."