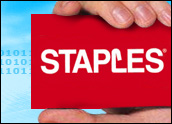 Staples is joining the ranks of big box retailers that want to push deeper into an activity that historically has been of secondary importance to them — e-commerce. That is not to say that retailers such as Walmart or Target have been absent from the online sales space. Quite the contrary, in fact. However, they — and now Staples is part of this group — are increasingly placing their online sales operations in the same priority category as their brick-and-mortar footprint. In Staples' case, a stronger mobile presence will also be part of the mix.
Staples didn't couch its move in such terms, of course. The retailer announced that it is launching a new strategic plan for growth that includes integrating its retail and online offerings, increasing investment in its online businesses, and reorganizing its operations, among other measures. The retailer is also eyeing an expansion of its typical product line "to better serve the needs of business customers."
To fund these investments, Staples is putting in place a cost-cutting plan that should generate savings of approximately US$250 million by the end of fiscal year 2015.
Staples did not respond to our request for further details.
E-Commerce Powerhouse?
To be sure, "Staples" and "e-commerce powerhouse" or words to that effect, are not often used in the same sentence. Walmart, for example, or Dell — and certainly Apple — are better known for their sophisticated online sales operations and savvy customer outreach.
Yet it would be a mistake to dismiss Staples as a wannabe, said Fred Lizza, CEO of Dydacomp.
"Actually, Staples is much closer to an e-commerce powerhouse than you might think, and the reason is they have invested heavily in IT infrastructure and supply chain capabilities," he told the E-Commerce Times.
"Look at how rapidly they turn around orders for office supplies and other products and efficiently deliver them to small businesses located virtually anywhere," Lizza pointed out.
What is missing from their online repertoire, he said, is more consumer-facing marketing that would direct customers to Staples' website as opposed to the retail outlets. The hard part — the fulfillment infrastructure — is already in place.
Price Competition
Even if Staples weren't as prepared for the shift, there are many reasons why it should make it anyway, starting with better price efficiency, larger trends in the retail space, and the changing nature of online sales taxes.
"Staples' brick-and-mortar strategy has involved the use of large square footage locations, which typically have high carrying costs for rent and occupancy," said Stephen Wyss, assurance partner with BDO USA's retail and consumer products practice.
"Since a large portion of Staples' customers are small business accounts that don't need to browse the aisles at the brick-and-mortar locations, the shift in strategy to online makes a lot of sense," he told the E-Commerce Times.
An Amazon Competitor?
The shift to online also makes sense as Staples expands its product line, said Michael Harvey, COO of CorraTech.
"This would seem to indicate that it wants to be more like Amazon in offering a wide variety of products online," he said.
That is doable, Harvey told the E-Commerce Times. "People forget now that Amazon started out selling just books, so there is precedent for this kind of expansion into different products online."
The Tax Question
Finally, it is becoming clear that the issue of online sales tax is not the deal-breaker that it was originally perceived to be, BDO USA's Wyss said.
"Amazon had long enjoyed the advantage of no sales tax in the majority of states because they did not have nexus in those states," he noted. "Retailers such as Staples were perceived to be at a disadvantage because their vast brick-and-mortar presence gave them nexus in most states, which required them to collect sales tax on online sales in those states."
However, Amazon recently decided to enter brick and mortar, as well as increase its number of distribution centers across the country, Wyss observed, indicating it is no longer fearful of the impact of collecting sales tax on sales in more states.