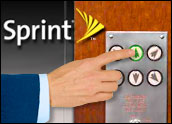 Sprint isn't just the newest U.S. carrier of Apple's iPhone — it's also going to be the only one in the country to offer an unlimited data plan for new users.
The wireless provider will join AT&T and Verizon in carrying both the iPhone 4 and the recently announced iPhone 4S, an upgraded version that runs faster, has more memory and has new features like the voice-activated Siri system. Sprint started taking orders for the iPhone 4, which it is selling at US$100, on Thursday, and it says it will start taking orders Friday for the iPhone 4S for $200. It will ship and carry the phone in stores when it launches on Oct. 14.
Sprint says it's confident its unlimited data plan, a plan that neither Verizon nor AT&T offer, will be a major draw for customers.
"With Sprint's unlimited data plans, customers don't have to worry about throttling or surprises ontheir monthly bill due to data overage charges like they might with tiered data plans from other carriers," Michelle Leff Mermelstein, wireless device public relations representative at Sprint, told the E-Commerce Times.
Unlimited Demand
Sprint's unlimited offering may well prove to be a draw. Some carriers have allowed unlimited data access in the past but later began restricting new customers to limited plans. Even though the percentage of users who exceed their limit for a given month is typically small — usually lower than 5 percent, depending on the network — the threat of slower service or overage charges is a turn-off to heavy users.
"Even though most people use only moderate bandwidth each month, the overage fees charged when you push beyond the limit can bankrupt a small country," John Feland, CEO and founder of Argus Insights, told the E-Commerce Times.
The unlimited offer may be especially alluring to new iPhone customers comparing plans, since the upgrades found in the iPhone 4S have the potential to eat up large chunks of data.
"Given the new iCloud services coupled with the potential increased network demands that the Siri virtual assistant puts on the phone, having some bandwidth buffer might be the right idea for consumers looking to embrace the iPhone 4S experience," said Feland.
Sprint is actually following in the footsteps of Verizon, which first kicked off its iPhone service by offering unlimited plans, as well.
"Verizon offered similar unlimited plans to the first iPhone defectors with great success and eventually phased it out as they realized the ability to make phone calls was enough of an impetus for customers to move," said Feland.
Tricky Balance
Though an unlimited plan may be attractive to some buyers, it's unknown whether it will be enough to compensate for Sprint's leap into its partnership with Apple. The company reportedly agreed to purchase 30 million handsets from the iPhone maker over a period of a few years — a $20 billion commitment.
Some are confident that the investment will pay off in the long run, but the U.S.'s fourth-largest carrier has lost money for 15 straight quarters. If iPhones don't start racing off Sprint's shelves, the financial agreement could put a strain on the company's already tired balance sheets.
On the other hand, if the demand for unlimited data draws a great deal of new users to Sprint's network, the company risks compromising the quality of the rest of its users' service and bandwidth capacity.
An additional concern for Sprint is whether it can attract AT&T and Verizon's defectors, instead of just new users looking for unlimited data. Some estimates suggest the company needs both in order to justify the deal.
"The big question is, will consumers already locked into relationships with AT&T and Verizon jump ship to move to Sprint, or will Sprint's new iPhone customers actually be new to the iPhone?" said Feland.
Before the iPhone 4S was revealed, one rumor held that Sprint would have exclusive access to a purported iPhone 5, which would be a 4G phone. Sprint has a competitive edge in its 4G capabilities, one that had the potential to draw users looking for much speedier Web connectivity. However, Apple apparently decided that the more complex and battery-sucking 4G technology isn't a good fit for iPhone at this time.
"A true 4G phone from Apple would have made Sprint even more attractive to consumers, given the head start they have on the competition, but with iClouds brewing over the mobile market, offering an unlimited data plan makes Sprint a safe bet for consumers," said Feland.