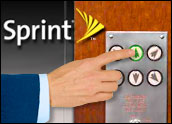 Sprint is reportedly in talks with Clearwire and cable companies regarding the possible acquisition of the wireless Internet provider to help build its 4G LTE network.
The talks are allegedly happening between Sprint and cable providers such as Comcast, according to a Bloomberg report. Clearwire is looking for an investment of US$600 million to expand its high-speed wireless network and upgrade to 4G LTE technology.
It's unclear what a final deal would look like. Sprint is already a Clearwire investor and could use equity from cable companies investing in Sprint to buy out the remaining portion of the wireless provider. Or Sprint could simply invest more in the company.
As the U.S.'s third-largest wireless provider, Sprint is facing pressure from leaders AT&T and Verizon and is looking to expand coverage and services. An advanced LTE network could be a way to gain some momentum in the carrier race.
Neither Sprint nor Clearwire responded to the E-Commerce Times requests to confirm the talks.
What Kind of Deal?
Since the talks have not been made public or even confirmed, there are many questions as to what a final transaction between the companies would look like. Although a complete buyout is possible, it may not be the most likely option.
"An acquisition would be a good long-term move for Sprint, and an acquisition at anything close to current prices would be even better; however, the timing may not be right," Jonathan Chaplin, director of communications services for equity research at Credit Suisse, told the E-Commerce Times.
Sprint's balance sheets need to be in better standing before the company can make great investments.
"Sprint is about to embark on a substantial network rebuild that will consume $4.5 billion of cash over and above their current spending levels over the next four years. In addition, they have $2.25 billion in debt maturing early next year. These make a cash deal difficult," said Chaplin.
Perhaps a more likely scenario is a partnered deal structure with cable companies, a transaction that could be mutually beneficial. It would give Sprint the cash to invest in the high-speed network and simultaneously provide a company like Comcast or Cablevision with a more effective way to compete against carriers offering Internet, phone and cable bundles.
"Ultimately Sprint is looking to solidify its 4G strategy right, now and they're completely relying on Clearwire for that strategy. They're perhaps looking to regain control of Clearwire and possible additional spectrum. I think the point of that spectrum and how much that may benefit Sprint is key to any deal involving the cable companies and Clearwire," Michael Nelson, executive director at Mizuho Securities, told the E-Commerce Times.
Strengthening Forces
Broadening spectrum and services is essential for Sprint as it tries to compete against a growing pair of market leaders. It's possible for the company to grow on its own, but it's wise to find partners in the field to strengthen services as quickly and efficiently as possible.
"Sprint can create a tremendous amount of value with its network upgrade without having to acquire Clearwire or anyone else; however, they can create more value over time with Clearwire," said Chaplin.
Verizon and AT&T, the U.S.'s two largest carriers, have a dominant role in the market. It's a position that's only likely to grow in the near future, especially if the merger between AT&T and T-Mobile gains regulator approval. Sprint has voiced strong opposition to the deal, claiming the merger would create a duopoly and stifle competition.
A deal with Clearwire and cable providers, then, could bolster services and give Sprint strategic allies if an AT&T/T-Mobile company takes its place in the market.
"It's in Sprint's best interest and the cable companies best interest to try to work more closely together given the dominance of AT&T and Verizon, particularly with the ramifications if the AT&T and T-Mobile merger goes through," said Nelson.