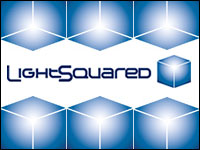 Sprint has canceled the 15-year agreement it inked with LightSquared last July to build out and license a 4G network. LightSquared was to have used this network, together with its own infrastructure, to launch its service.
The agreement would have been beneficial to Sprint as well, as it had hoped to use LightSquared's network to relieve its own spectrum shortage.
However, Sprint apparently has lost faith that LightSquared can deliver on its original promise. The company has encountered a number of regulatory hurdles in seeking approval for its network, and the Federal Communication Commission has indicated it will revoke the waiver that allowed its development.
LightSquared took Sprint's decision with good grace, saying Sprint's move was in the best business interests of both companies, and was not unexpected given the regulatory delays that have impacted LightSquared.
LightSquared did not respond to our request for further details.
What's Next for LightSquared?
LightSquared's chief executive, Sanjiv Ahuja, stepped down recently and the company is currently seeking to fill that position. The company's problems have been multiplying since its 4G wireless service was found to interfere with Global Positioning System signals in tests.
LightSquared has refuted those findings, and it is fighting the FCC's decision to void its waiver. On the same day that Sprint announced the end of the partnership, LightSquared filed its opposition to the FCC's plans, insisting that it was still feasible to resolve the interference issues.
Deep Wound
Despite its optimistic talk, with Sprint bowing out, LightSquared is out of the game for the moment, tech analyst Jeff Kagan told the E-Commerce Times.
Sprint was to have provided a much-needed infusion of capital, he noted.
That said, LightSquared does not appear willing to walk away from the US$4 billion already invested in the venture.
"Sprint doesn't have to play a role in LightSquared turning itself around. The company's long-term plan is to continue to work with the U.S. government to figure out how to get their strategy on track," noted Kagan.
The rough plan appears to be to get the FCC to award LightSquared spectrum that doesn't interfere with GPS and move forward from that point, he said.
"This will probably be a very long process lasting several years," Kagan predicted, "but the LightSquared story still makes sense. A solution is still needed to the limited bandwidth situation we have now, a situation that will only get worse."