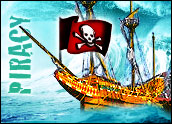 SOPA opponents — that is, the people and organizations lining up against the Stop Online Piracy Act — clearly still have their work cut out for them. At the same time, there are signs that the massive protest against the bill is having some effect.
The bill's chief sponsor, U.S. Rep. Lamar Smith, R-Texas, suggested in an interview published Thursday that he had no intention of backing down, even though many business constituents in his state have expressed disgust with the proposal, which he characterized as protection for American consumers and businesses. He implied that opponents might be profiting somehow from directing consumers to foreign websites.
On the other hand, Sen. Patrick Leahy, D-Vt., sponsor of the Protect IP Act — a similar bill pending in the Senate — has told reporters that he is reconsidering a major provision: the requirement that ISPs must alter records for looking up website names to prevent people from navigating to sites deemed to have infringed copyright law.
Even if Leahy should omit that requirement, it would not be enough to satisfy critics. The pushback will likely continue. Next stop: Reddit will go dark for 12 hours on Jan. 18 to protest the measure.
A Hated Law
The two bills purport to fight online piracy of pharmaceuticals, music and other consumer products by granting the Department of Justice to the ability to get federal court injunctions against foreign-based websites that violate U.S. copyright laws.
Such a measure would be disastrous for Internet commerce and the tech industry, according to critics, which include such companies as Google, Twitter, Facebook, Reddit, Nvidia, Etsy and Red 5 Studios, to name just a few.
Emotions are running high on both sides of the debate. While Smith conjures up images of anti-American websites preying on innocent consumers, the anti-SOPA crowd evokes an entertainment industry running to Congress to save its creaky old-fashioned business model because it can no longer compete.
"SOPA is completely unbalanced," Tim 'TK' Keanini, CTO for nCircle, told the E-Commerce Times.
"It's a pipe dream from media companies that woke up one morning and discovered, to their horror, that their businesses had been transformed overnight into software companies," he explained.
"The major media companies have no idea how to operate a software business and demonstrate a complete lack of interest in learning how software is monetized," continued Keanini. "Instead, they want to remake the Internet world to fit their outdated business models."
Going Dark
As a protest measure, Reddit — one of the key critics of the legislation, along with Google — is planning to shut down its site for 12 hours on Jan. 18.
Wikipedia may also join in the blackout. Founder Jimmy Wales supports the idea, but he noted that it might not be possible to organize the required community vote in time.
Gaming company Destructoid has signed up for the protest, as has Red 5 Studios.
Waking Up the Grass Roots
These SOPA opponents hope to raise awareness of the consequences the legislation would have on Internet users' day-to-day lives.
"Anything that wakes up the grass roots to the implications of any pending law is useful," Colin Jeavons, president and CEO of Vertical Search Works, told the E-Commerce Times.
About four years ago, illegal immigrants decided to hold a blackout day in New York City, he noted.
"You should have seen the faces of people when they went into delis and restaurants and realized they couldn't get a bacon, egg and cheese sandwich on their way to work," said Jeavons. "Much of animosity around that particular issue diffused after that day."
One of the best PR moves the tech industry could make, he suggested, would be to strike a similar chord in its own user base.
Bringing the Fight to the People
The tech companies have already done an admirable job of bringing awareness to the issue, Strategic Communications Group Managing Director Christopher G. Parente, who's beenblogging about the issue, told the E-Commerce Times.
The fight also highlights the old-style versus the new style of PR war room tactics, he said.
"Hollywood is going about it in the old way — getting to know Capitol Hill staffers, trying to affect legislation. Meanwhile, tech companies — while they have more of lobbying presence now than they even did five years ago — are still not as good at that game. So they are trying to mobilize citizens to make it as painful as possible for Congress to pass the legislation."
For all their efforts, the tech community has a powerful image in its corner that it is not using to the best effect, Parente added.
"Most consumers perceive the services that Google and Reddit provide as being free," he pointed out. "Many don't realize they pay for it via the personal data, of course, but that is beside the point. What most see are these companies providing these free services going up against old-style Hollywood, which charges (US)$12 per ticket or $20 per CD."
That alone is a powerful argument, he said.