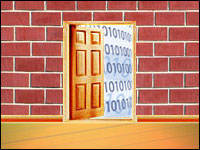 The high-tech industry lost jobs in 2009 for the first time in several years, but the cuts were fewer than those experienced in the private sector as a whole, thanks in part to relative strength in the category of software services.
That's according to TechAmerica Foundation's 13th annual edition of the Cyberstates report, which was released Wednesday.
After four years of steady growth in employment, the U.S. high-tech industry lost 245,600 jobs in 2009, slipping to a total of 5.9 million workers. That represents a 4 percent decline, which is the bad news; the good news is that the cut compares favorably with the private sector's 5.2 percent drop in employment.
A Blow to Manufacturing
Within the high-tech sector, there were employment losses across the board, but the fewest were felt in software services, which lost 20,700 jobs, or 1 percent.
Of the 245,600 jobs shed in 2009, 112,600 were in manufacturing, 59,000 were in engineering and tech services, and 53,000 were in communications services, TechAmerica reported.
"Without decisive action, policymakers in Washington might not see the recovery that we are hoping for," TechAmerica Foundation's president Christopher Hansen and chairman Phillip Bond concluded. "The technology industry could benefit from a comprehensive innovation agenda that encourages competitive tax policy, broadband deployment, and the creation of more well-paying tech jobs across the country to help put America's brightest minds to work."
Cyberstates 2010 relies on data from the U.S. Bureau of Labor Statistics. The report provides 2009 national data on tech employment as well as 2008 national and state-by-state data on high-tech employment, wages, establishments, payroll, wage differential, and employment concentration.
'It's an Accelerator'
The high-tech industry accounted for 5.5 percent of the U.S. private sector workforce in 2009, up slightly from 2008, according to TechAmerica.
Though both software services and engineering and tech services were "bright spots" in 2008, the report points out, both still lost jobs in 2009. A 2009 quarterly breakdown, however, reveals that software services actually added 10,100 jobs in the fourth quarter, growing by 1 percent.
The fact that software services fared the best is not entirely surprising, Rob Enderle, president and principal analyst with the Enderle Group, told the E-Commerce Times.
"Software services tends to benefit both when the market is improving and when it declines, primarily because it's an accelerator," Enderle explained.
'Comparatively Recession-Proof'
Specifically, software can be implemented "to make up for things you would have otherwise done had you had the money," he noted, but it can also be used during good times to enhance newly purchased hardware.
As a result, "it's comparatively recession-proof," Enderle asserted. "The end result is that software services remain in demand regardless of whether the market is in growth or decline."
All nine high-technology manufacturing sectors lost jobs in 2008, TechAmerica reported. The largest losses were concentrated in electronic components manufacturing — which lost 37,100 jobs — and semiconductor manufacturing, which lost 25,400. Space and defense systems manufacturing had the smallest decline, losing only 1,200 jobs.
'I See Profits'
"I think the U.S. defense industry continues to be a growing concern," Charles King, principal analyst at Pund-IT, told the E-Commerce Times. "It has been for decades now — it consumes an enormous portion of the federal budget."
Of course, "despite the billions of dollars that have been spent on defense in the last decade or so, concerns about national security continue to abound," King pointed out.
Meanwhile, "technology has become an ancillary part of virtually every part of the defense industry and defense networks and systems, so I see profits as long as the nation continues to feel insecure," he predicted.
Good News in Wages
Also included in the Cyberstates report are state-by-state data and wage trends.
Despite being in the midst of a recession, for example, TechAmerica found that 41 "cyberstates" added tech jobs in 2008, with the largest gains in California, Texas, Washington, Massachusetts and Virginia. On a percentage basis, Delaware saw the fastest job growth in 2008.
Regarding wages, meanwhile, the high-tech industry appears to pay its workers well, with compensations 86 percent more than the average private sector wage nationwide, TechAmerica said. Forty-seven cyberstates had wage differentials higher than 50 percent; five had differentials higher than 100 percent.