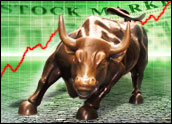 The tech industry is getting a boost from Google's 7 percent revenue jump from the year-ago quarter, as well as from better-than-expected earnings reports from IBM and, earlier this week, Intel.
Google is apparently feeling confident enough about the economy and its own near-term prospects that it's contemplating one or more acquisitions. CEO Eric Schmidt said in an earnings conference call that it's looking at candidates — both large and small — across a wide functional spectrum, including those with capabilities in its core areas of search and advertising.
The company is also interested in acquiring strength in industry-specific applications, Web-browsing technologies and analytics, he said.
A Tech Recovery
Google and other tech companies — notably Cisco, which hopes to acquire video-conferencing company Tandberg (possibly for more than the $3 billion it initially offered) and mobile infrastructure firm Starent for $2.9 billion — are clearly feeling positive enough about the economy to embark on major acquisitions, said Scott Testa, a business professor with Cabrini College.
"I think going forward we are going to see more mergers and acquisitions across a wide range of industries, both large and small deals," he told the E-Commerce Times.
Presumably, companies such as IBM and Intel have entered a similar mindset. Both delivered solid earnings — considering the still-weak economy — and expressed cautious optimism.
IBM reported a Q3 profit of $3.21 billion, compared with $2.82 billion in the same period a year earlier and raised its earnings forecast for 2009 to $9.85 a share from $9.70. It expects to see a revenue increase in Q4 for the first time since July 2008. Revenue in Q3 registered $23.57 billion, a decline from $25.3 billion last year.
Intel, for its part, reported third-quarter revenue of $9.4 billion, a 7.8 percent decline from the same quarter last year; it registered net income of $1.9 billion, or 33 cents per share. That was a 5 percent drop from Q3 2008 — but it still beat Street expectations.
Setting the Bar
It was Intel that set the bar for the rest of the tech industry, which is seeing mixed results, Fred Ruffy, senior trading analyst with WhatsTrading.com, told the E-Commerce Times.
"Intel's news helped spark a 145-point rally in the Dow Wednesday. Not only did it report a 33-cent per share profit, six cents better than Street estimates," he noted, "revenues beat expectations, and the chipmaker raised guidance for the fourth quarter."
Intel is forecasting revenue of $10.1 billion — give or take $400 million — for Q4; analyst estimates call for $9.51 billion.
However, not all the news is good for tech, Ruffy said. Despite IBM's positive earnings report, its shares fell 4.9 percent due to the computer maker's cautious comments about overall corporate technology spending.
Also, "Nokia took a hit of 11 percent on Thursday on disappointing revenue numbers," he pointed out, "and AMD is off 7 percent on Friday after the chipmaker issued a cautious outlook for fourth quarter revenues."
A lot of the good news had already been factored into the market in the months and weeks leading up to earnings reporting season, Ruffy explained.
"The tech-heavy Nasdaq had enjoyed a gain of more than 70 percent from its March lows. It is up about 20 percent over the past three months, and since the last earnings reporting season," he observed. "So, it is safe to say that stock prices had been moving higher in anticipation of a recovery in tech sector earnings."
Now that the numbers are trickling out, he said, companies like Google must deliver decisively strong results for shares to move even higher still.