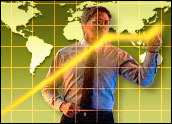 The global IT market will see better days in 2010 as signs point to the beginnings of a worldwide economic recovery, according to a report from Forrester Research.
Global IT spending will grow 8.1 percent, while IT spending in the United States will climb 6.6 percent, according to the study.
Large enterprises will lead the way, and a new cycle of technology investment growth and innovation is upon us, Forrester Vice President and Principal Analyst Andrew Bartels predicted.
Happiness Is a Warm IT Market
Global IT spending, which fell 8.9 percent last year, will grow 8.1 percent this year to total more than US$1.6 trillion, Forrester stated. Meanwhile, IT spending in the U.S., which fell 8.2 percent in 2009, will grow 6.6 percent to total $568 billion. The U.S. IT market will chalk up more than twice the growth rate of the nation's gross domestic product (GDP) this year, Forrester pointed out.
"2009 was a miserable year for tech vendors, especially for sellers of capital equipment like PCs, servers, routers and licensed software, and for systems integrators who helped implement that software," Bartels wrote in his blog. "2010 will be a much better year."
Hardware and software purchases will lead the way. In U.S. dollar terms, global software purchases will increase by 9.7 percent; purchases of computer equipment will grow 8.2 percent; and communications equipment purchases will increase by 7.6 percent. Worldwide, IT outsourcing service demand will be up 7.1 percent; and purchases of IT consulting and system integration services will increase by 6.8 percent.
Mature categories such as PCs, storage, and ERP (enterprise resource planning) and CRM (customer relationship management) software licenses will show strong growth this year because they took such a beating in 2009, Bartels said. "Vendor revenues for products like these dropped by 20 to 30 percent in the first half of 2009 … but demand was delayed, not canceled. Expect a bounce back in 2010, with double-digit growth rates," he wrote.
"I think a certain amount of optimism is warranted," Charles King, principal analyst at Pund-IT, told the E-Commerce Times. "The economy appears to be in better shape today than it was a year ago, and the survey reflects a degree of optimism I've been seeing among IT vendors and many of their customers."
Start Conservative, Get More Liberal
Don't rely on the results of CIO surveys — these will show little or no planned IT budget growth, Bartels cautioned. Few CIOs want to enter 2010 with a big IT budget increase when the economic and business outlook is so uncertain. However, as the economy strengthens, they will get ad hoc approval from their CEOs to spend above their planned IT budgets to support the better-than-expected business growth, he predicted.
Demand from large enterprises will be stronger than that from small and medium-sized businesses (SMBs), at least in the U.S., Bartels said. That's because the large corporations can tap corporate bond, commercial market and equity markets as they used to. On the other hand, SMBs depend on banks for financing, and banks are pursuing a conservative lending policy.
The strongest sustained demand beyond 2010 will be for smartphones and tablets, embedded computer devices such as smart utility meters, analytical software, and vertical industry solutions. Next-generation technologies will be the real engines of growth for the next six to seven years.
These next-generation technologies are the ones that make up smart computing. They are a combination of awareness and advanced business technologies. Smart computing rests on new foundation technologies such as service-oriented architecture (SOA), server and storage virtualization, cloud computing, and unified communications.
Some existing large vendors — IBM, Cisco and perhaps Oracle, Microsoft and SAP — will be successful in creating and selling these next-generation technologies, Bartels said. New entrants such as GE or Siemens will also succeed, as will some smaller vendors.
Storage virtualization and the cloud remain open to question for Pund-IT's King. "The inclusion of storage virtualization is a little odd because storage is commonly managed in virtualized server environments," he pointed out. "As for the cloud, I'll probably get crucified for this, but the adoption of the cloud still seems to be something you see vendors talk about more than customers."
Overall, however, he agrees that new technologies will drive the market. "I think new or emerging technologies relating to business portend a happier IT market in 2010 than in 2009," he said.