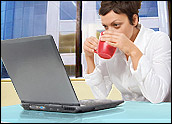 Worldwide PC shipments will fall on a year-over-year basis for the first time in nearly a decade, but all signs still point to a late-year tech sector recovery, according to research firm iSuppli.
Shipments will fall 4 percent from 2008 sales, to 287.3 million units, the firm predicted.
This is the latest — and perhaps the most optimistic — of several research reports out lately. Based on findings it released in June, for example, Gartner said it expects a decline of about 6 percent for the year.
Yet some economic signals, including relatively robust second-quarter earnings by chipmaker Intel and rising demand among Asian — particularly Chinese — consumers, suggest recovery is still in the offing.
Intel CEO Paul Otellini told investors and reporters listening in on the company's earnings conference call on Tuesday that demand among manufacturers and retailers is growing after two quarters of spending down inventories ahead of economic uncertainty.
Growth is particularly strong in China, he said. The Chinese government is subsidizing the cost of new computers for some consumers, helping spur growth there.
Consumer Models, Notebooks Lead
The recovery is likely to be consumer-driven, and will be dominated by the sales of increasingly inexpensive notebooks and netbooks prized by consumers for their low-cost and portability, Matthew Wilkins, research director at iSuppli, told the E-Commerce Times.
"Consumers are looking at what has the best bang for the buck, and notebooks are where that's at right now," he said.
iSuppli's research shows notebook sales surpassed those of desktops in the fourth quarter of 2008, Wilkins said.
"That's going to be a long-term trend now," he said.
Netbooks are a big part of the growth, added Wilkins.
While the overall notebook market is projected to grow by 12 percent in 2009, the netbook segment will grow by 70 percent over 2008 levels, he noted.
Other Research
Other research firms have reached fairly similar conclusions about forecasts for PC shipments this year.
The figures Gartner released in June project shipments of 274 million units in 2009, off 6 percent from 2008 figures.
That report was less gloomy than one Gartner had released just a few weeks earlier, which anticipated a 6.6 percent drop.
Consumer shipments were much stronger than expected, the company said, and all regions except Europe were improving ahead of expectations.
Also last month, research firm IDC issued a report predicting a 3.2 percent drop in PC shipments worldwide, led by a precipitous 13.2 percent drop in shipments of desktop computers.
The firm expects growth to return toward the end of the year, driven by new low-cost consumer portables and the release of Windows 7 in the fall.