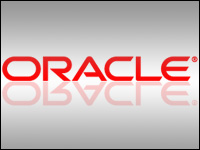 Oracle released a quarterly earnings report that exceeded Wall Street expectations, thanks largely to a significant jump in software and cloud subscription revenue.
The company announced a profit of US$2.6 billion, or 53 cents per share, for the quarter. This compares with the $2.2 billion, or 43 cents per share, it brought in during the same period a year ago. Revenue increased 3 percent to $9.1 billion for its second fiscal quarter, up from $8.8 billion from the previous year.
Oracle's software performance was the big winner during the quarter. Software revenue jumped 11 percent from a year ago, to $6.6 billion. Its new software licensing revenue also increased 18 percent compared with the same quarter in 2011.
Hardware sales were a different story, although Oracle CEO Larry Ellison promised that 2013 will see a hardware turnaround following the company's Sun Microsystems acquisition. The latest quarter's hardware revenue totaled $1.3 billion, down 16 percent from the same quarter last year.
Investors were encouraged by the report. Oracle's stock climbed Wednesday, closing at $34.19, a rise of nearly 4 percent.
Oracle did not respond to our request for further details.
Software Boom
Even though Ellison was eager to build up Oracle's hardware future during a conference call announcing the earnings, software gave Oracle the boost it needed this quarter, said Tim Jennings, chief analyst for enterprise IT at Ovum. That's likely to continue, he said, as it seems the company is making effective sales decisions.
"Software will continue to grow, particularly the cloud subscriptions," he told the E-Commerce Times. "Enterprises are looking to transform and optimize additional areas of their business, including sales and marketing, human resources, supply chain, often led by line of business rather than IT, and are looking for quick deployment and time-to-value. Strong focus on improving the sales force and increasing sales headcount is paying off."
There is plenty of competition in the overall software market, but Oracle consistently understands which specific areas to target. "Software to solve specific business challenges is still a strong market," Jennings pointed out. "Oracle's recent acquisition of DataRaker, a cloud-based analytics company for utility companies, is a good example."
In addition, a strong quarter in cloud sales isn't just an indication that the software market is booming, said Curt Monash, software analyst and strategic advisor at Monash Research.
"Oracle executed well on selling acquired Software-as-a-Service and cloud applications into new geographical areas," he told the E-Commerce Times. "Oracle is telling us that the economy is recovering, and they saw it coming."
What Now?
For all its success in the software market, though, Oracle pointed to hardware as a key component in its success going forward. Hardware sales will turn positive during its fourth fiscal quarter, President Mark Hurd predicted.
That is likely, if only because it'd be tough for them to dip lower, said Jennings.
"Hardware revenues have continued to decline, and are nearly at the bottom, so it can hardly fail to see these moving back upwards from the low point by the end of this fiscal year," he pointed out. "What Oracle has done successfully with the Sun purchase has been to get into the integrated systems market early. Uptake of integrated systems is strong in the market, and Oracle will continue to benefit from this."
Building off of that, in addition to keeping sales high in the cloud and software spaces, will help keep investors as happy as they were with Oracle's latest earnings announcement, Jennings predicted.
"I think more of the same is indicated, keep investing heavily in research and development so that there is a pipeline of new products and innovation. Keep making selective acquisitions in the cloud software space," he advised. "Keep building its vertical businesses, which are performing well."