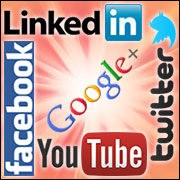 In just a few short years, social networks have become deeply entrenched as a means for consumers and businesses to connect online.
Consumers spend more time on social networks than on any other category of sites, according to the latest social media report from NM Incite/Nielsen. That amounts to roughly 20 percent of their total time online using personal computers and 30 percent using mobile devices.
Total time spent on social media in the U.S. across PCs and mobile devices has increased 37 percent to 121 billion minutes in July 2012, compared with 88 billion in July 2011.
In particular, the mobile Web is fueling growth of social media. The personal computer remains the predominant device for social media access, but consumers' time spent with social media on mobile apps and the mobile Web has increased 63 percent this year, compared with the same period last year, the report notes.
Facebook's Story
Facebook remains the top social network, but new social media sites are emerging and catching users' attention. Besides attracting the most visitors via PC (152.2 million), mobile apps (78.4 million) and mobile Web (74.3 million), Facebook is multiple times the size of the next largest social site across each platform. Some 17 percent of time spent online via personal computers is on Facebook.
Facebook's path to success has been obvious, Jason Stein, founder and president of Laundry Service, told the E-Commerce Times.
First, it has built up phenomenal website traffic. For example, Facebook referral traffic to retail sites was up 240 percent on Cyber Monday, he noted.
"Equally important are the long-term downstream sales opportunities created by Facebook users engaging with your brand," Stein said. "There is a lot of data from research companies like comScore, Deloitte and E-tailing Group showing the strong connection between Facebook and sales."
Temporary Phenomenon?
Still, it is fair to wonder how long Facebook will remain in the top position and what any shift in popularity could mean for companies' social media monetization activities. For the moment, monetization on social media is advertising — that is, advertising on Facebook. However, that could change as other sites grow in popularity.
For instance, the number of social networks availble to consumers has exploded, with Pinterest emerging as a one of the breakout stars for 2012. It had the largest year-over-year increase in both unique audience and time spent of any social network accessed via PCs, the mobile Web or apps, Nielsen said.
Before brands start worrying about which social media site they should focus on, they should also consider that online advertising is undergoing a shift as well, said Gabe Donnini, data solutions engineer at Chitika.
"As more and more people turn to social media as a way of staying connected with friends and coworkers, you are seeing a huge increase in the amount and type of advertising that is available," he told the E-Commerce Times.
New technologies, such as real-time bidding, are poised to shake up the space, he continued.
Recently, "Facebook demoed Facebook Exchange, its own RTB initiative," Donnini said.
New Activities, New Ad Opportunities
Another factor to consider is that social media are driving all sorts of new activities from which new advertising opportunities will likely emerge.
Social TV is one example. Some 41 percent of tablet owners and 38 percent of smartphone owners use their device daily while in front of the TV, according to NM Incite/Nielsen.
Social customer service is another growth activity, with 47 percent of social media users engaged in social care.
Other activities are also starting to gel.
Social media can contribute to more effective management training, for example.
"When trainers took learning out of the classroom a decade ago and put it on the PC, they also inadvertently isolated classmates from each other, Philip Wolff, director of product and instructional design for the Satell Center for Executive Training, told the E-Commerce Times. "We're using social media to help put that critical class dynamic back into e-learning."