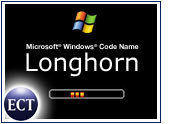 Fancy the situation of the computer OEM, stuck selling the same software from Microsoft for the next two years — software that's already been around for more than a year and a half. We may be seeing a four-year cycle between Microsoft upgrades, certainly the longest I can remember. With PC sales in dollars predicted to be down by perhaps 1 percent this year, it's enough to make a computer OEM wonder: Why don't they just slap that "Bob" software on the thing and call it Win95: Reloaded?
A wonder, indeed, given that it sounds like most of Longhorn will be a retread of stuff you can already get in other computer systems. There's a term in technology for a company that scoops up others' ideas, quickly making them its own in an effort to keep pace. It's called being a fast follower. In the case of Longhorn, however, Microsoft is taking forever in PC time to abscond with ideas others have already injected into the marketplace. The company's next operating system upgrade sounds about as dynamic as a drugged steer.
Been There Already
For example, Microsoft will use its DirectX 3D rendering technology, in conjunction with AGP 8X connections to the graphics card, to add hardware acceleration to the windows and other objects that programs draw on the screen. This technique resembles the OpenGL rendering that the Macintosh currently performs on machines running the G4 PowerPC chip and the OS X operating system.
Also, six years after both TiVo and Replay Networks introduced hardware-based digital rights management (DRM) to their hard-disk TV recorders, Microsoft is entering the scene. It turns out that DRM was part of the recent settlement between Microsoft and AOL that ended the antitrust battle between AOL's Netscape division and the software giant. Microsoft reportedly will focus on making Longhorn a champ at crunching the codes that encrypt copyrighted materials.
Apple Was First – Again
But wait, there's more borrowing. It looks as if Microsoft will relive the controversial issues faced by Apple earlier this year with its iTunes and Rendezvous technologies. Those offerings, you'll recall, allow music files on one home computer to be sent to another local computer — a cause for dismay among some in the PC industry who see such flexibility as just more "sharing" of media. Well, Microsoft plans to throw technology into Longhorn for discovering and playing media assets on a network, just like Rendezvous.
Another rumored feature of Longhorn, unconfirmed by the recent WinHEC conference, is the attempt to put a relational database at the heart of the operating system — a relational file store, it's usually called — to replace document files organized hierarchically into folders, as is the case in Windows, Mac and most Linux and Unix implementations.
My money's on Apple to have something similar implemented on the Mac long before Longhorn ships.
Even Better Than the Real Thing
Sure, some of the stuff Microsoft is talking about is more ambitious. For example, the DRM and media-sharing technologies call for Longhorn to translate between different encryption schemes and different media types, so that the PC becomes an interface between many types of media on many types of connected computers. That sounds nice, but it also sounds like the kind of lofty promises from Gates & Co. that never perform as they're supposed to. Plug and Play still doesn't make it a no-brainer to attach a digital camera and just have it work. Will Longhorn make it a snap to plug in any digital content on any playback device? I doubt it.
Microsoft's plans for the next upgrade to its server line, Blackcomb, sound more intriguing, especially in terms of its plans to layer IP Secure (IPSec) on top of the standard TCP/IP protocol stack. I'm not holding my breath, though, as the ship date of Blackcomb is far outside any time I've spent under water.
The fast follower normally plays an important role in the marketplace, bringing price advantages and stability to an emerging technology by virtue of its deep pockets and central position as a vendor. Think Cisco in routers or IBM in PC technology. At the rate it's going, though, Microsoft is bringing warmed-over versions of fairly reliable technology to market far too late. Next time someone gripes about the state of innovation on the PC, point out that it's the shameful pace of imitation that's choking the market.
---
Note:
The opinions expressed by our columnists are their own and do not necessarily reflect the views of The E-Commerce Times or its management.
---