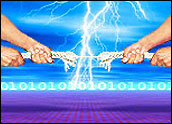 IBM and the rise of Linux are the two main competitive threats to Microsoft, CEO Steve Ballmer told employees in a widely circulated e-mail message.
In what amounted to a state-of-the-company note, Ballmer also said Microsoft will delay the release of its Longhorn software platform if necessary in order to release a near-perfect product.
He noted that Microsoft's sales force is encountering a more skeptical, reluctant audience among high-tech buyers, a fact that makes enthusiasm and passion about creating new technology within the company all the more important.
"We must avoid complacency," Ballmer wrote in the sprawling 10-page note that bore the title "Microsoft Business Plan." "We need to change old habits and seriously rethink business-as-usual."
What Linus Wrought
It is hardly a secret that Linux has been nipping at Microsoft's heels. The software giant cited the threat in a recent U.S. Securities and Exchange Commission filing. Moreover, a decision by the city of Munich, Germany, to migrate its 14,000-computer network to an IBM-managed Linux platform, despite an intervention by Ballmer himself, got its share of media attention.
Gartner vice president David Smith said overseas governmental adoption of Linux and other open-source programs may herald a major shift in the IT landscape, since companies that do business with those agencies may follow suit.
"Open source is sometimes seen as a way to boost local economies by helping small local software or integration firms," Smith told the E-Commerce Times, adding that some customers have been driven away by Microsoft's licensing terms.
Ballmer said the reason Linux is a threat is not because it is as good as Microsoft's products.
To the contrary, he noted, in times of "lean IT budgets and concerns about Microsoft's attention to customers, noncommercial software [packages] … are seen as interesting 'good enough' or 'free' alternatives." He said it appears that as many as half of the 1 million Unix servers in the United States are "candidates for migration" to open-source systems.
Wake-Up Call
Some observers say the memo contained little new information, as Microsoft investors already are well aware of the threat posed by Linux. It may have been more of a wake-up call to employees — a reminder that even though Microsoft is the world's largest software company, it must continue to innovate and behave like an underdog in order to stay on top.
The memo said Microsoft will continue to develop its existing workforce through training and development, but also will seek to recruit talented workers and shuffle "consistently weak performers out of the company."
"We face significant challenges in the near and mid term," Ballmer wrote, citing the "overall state of the economy and a blas attitude from customers. Customers spent considerably on Y2K upgrades, which were seen as largely remedial, and they have not yet seen a tangible return on dot.com investments," he stated. "They are wondering whether future IT investments will lead to another quantum leap in productivity. And there's still too much pain and cost associated with migrating to new versions of products."