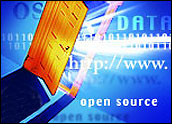 Governments and private enterprises, particularly outside the United States, are stepping up efforts to find alternatives to computer networks that rely on Microsoft products, according to a report from Gartner.
The research firm said several issues, ranging from changing licensing agreements to a series of high-profile security problems with Microsoft products, have sparked increased interest in open-source alternatives. In addition, some companies, particularly in Asia, view finding alternatives not dominated by U.S. companies as a way of sparking economic development.
Agencies in China, Japan, Singapore, Australia and elsewhere are pushing open-source options in order to "spark their local IT industries and thus avoid having to export increasing amounts of their gross domestic product to U.S.-based companies," said Gartner vice president David Smith.
Trouble at Home
Microsoft faces a backlash even at home, where the company's runaway success has created pockets of resentment among hardware makers and software firms that find themselves forced to make Windows-compatible products, according to Gartner analyst Robin Simpson.
In some cases, businesses are willing to accept solutions that may not fit perfectly in order to begin breaking free of their Microsoft dependence, Simpson added.
Microsoft could not immediately be reached for comment.
Gartner said agencies and businesses seeking Microsoft alternatives are most likely to turn to Linux and open-source integration options, citing low initial setup costs and potential advantages in the security arena.
But Smith said that only well-planned and thoughtfully chosen open-source deployments are likely to be successful. "Without up-front planning, the investments could lead to higher, unanticipated costs," he noted.
Love-Hate Relationship
Forrester analyst Rob Enderle told the E-Commerce Times that there have always been enterprises that have sought to resist Microsoft, but most find few alternatives that are as well developed as the software giant's products.
"The reason they got to be the biggest in the first place was they made better products," Enderle said. "They've tried to stay committed to development so that people won't stray or those who do will come back over time."
However, open-source product quality seems to be improving overall. Although open-source vendors, such as Red Hat, may have benefited from an anti-Microsoft backlash, it also appears that their offerings are only now coming into their own.
"From right after September 11th, we saw a lot companies for whom security was an issue start to take a long look and in many cases embrace open source," Red Hat vice president of marketing Mark de Visser told the E-Commerce Times. "It isn't as if people have suddenly discovered Linux."