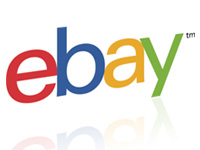 A rapidly increasing number of mobile shoppers gave eBay the boost it needed to turn in fourth-quarter results that beat analyst expectations.
Revenue jumped 18 percent to US$3.99 billion for the quarter, giving eBay a profit of $751 million during the quarter that included the holiday season, when measured on a GAAP basis. Although this represents a 62 percent drop when compared with the $1.98 billion it earned in the year-ago quarter, that figure includes the proceeds of last year's sale of its investment in Skype.
On a non-GAAP basis, profit rose 17 percent to $927 million from last year's Q4 earnings of $789 million.
Revenue for the full year also rose 21 percent to $14.1 billion.
Investors drove the company's stock higher by about 3 percent on the news.
eBay's earnings got a nice boost from a growing subset of shoppers this year — those who are turning to their smartphones and tablets over their PCs to complete their holiday gift buying. With its mobile apps appearing on more than 120 million devices, mobile commerce brought in $13 billion in volume during 2012, more than double the previous year.
The PayPal payment system also thrived during eBay's better-than-expected quarter. The service added about 2 million accounts per month during the most recent quarter to bring its total to about 123 million registered accounts. Shopping on smartphones and tablets also helped PayPal — its mobile payments hit $14 billion last year, up more than 250 percent from the year before.
eBay did not respond to our request for further details.
Just a Smartphone Click Away
While many online retailers saw a boost in mobile shopping during the past year, eBay was able to capitalize on the trend thanks to its better-than-average smartphone and tablet shopping experience, said Ron Rule, vice president of e-commerce for Infusion Brands.
"Their mobile app is excellent," Rule told the E-Commerce Times. "It has a great touch interface and you can browse, buy and pay from your phone, but there's an added bonus that's directly responsible for an increase in revenue — the barcode scanner."
Smartphones have long had the ability to scan UPCs, Rule pointed out, but the ability to do it right from eBay allows consumers standing in a brick-and-mortar location to see if they can get the exact product they're shopping for at a lower price delivered directly to their door.
"It's instant gratification," said Rule. "If my phone finds a better deal on eBay, I can buy it and pay for it in under 30 seconds, without typing anything while I'm still in the retail store."
That ability to connect with consumers and snag a sale no matter where they are is only going to be more important going forward in online commerce, said Mark Ballard, senior research analyst at Rimm-Kaufman Group.
"Tapping the mobile market is clearly going to be more and more critical for online commerce in the foreseeable future," he told the E-Commerce Times. "Mobile volume is more than doubling year over year, with tablets in particular driving much of that growth."
Now is the time for other retail sites to start scrambling to design more efficient mobile apps and checkouts, said Ballard. As long as eBay can continue to anticipate its customer needs for the growing trend, though, it should be able to hold on to its gains in the mobile marketplace.
"With PayPal's ability to streamline the checkout process, which is especially valuable for smartphones, where it can be tedious to checkout on a small screen, eBay is well-positioned to take advantage of mobile growth, whether it occurs on their marketplace or elsewhere," Ballard pointed out.
Global Marketplace
eBay isn't only grabbing customers through mobile devices, however. The company recognizes how to collect the right data on shoppers to engage further browsing and sales, said Rule.
"Just think about the data eBay is collecting," he noted. "They know what people are searching for and what they end up buying after their search. Their algorithm is designed to utilize that information to show popular products right on the home page, and suggest refinements in the search results for visitors based on variations of the search that were successful in steering other visitors into a sale."
Then, with the sheer size of its collection of products, and the ability to push what is trending, eBay is able to turn out a quarter like its most recent, said Rule.
Earnings in 2013 might flatten as the company continues to invest in other opportunities, eBay noted in its forecast.
Still, the company has shown it understands the market as well as any competitor, and if it keeps doing what it is doing it is in a great position to continue as an e-commerce leader, said Rule.
"Add up all of these variables," he said, "and eBay has a winning formula."