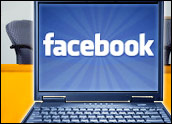 Facebook is shelling out US$10 million in a settlement that will allow it to keep its Sponsored Stories advertising program on the site but will saddle it with new restrictions.
The Sponsored Stories system on Facebook is meant to help ads get more exposure. When a user checks into a location or "likes" a brand on Facebook, the notification often appears in the News Feeds of that user's Facebook friends. However, depending on how active that user is or the site habits of their Facebook friends, that notification might get buried in the other site content.
If an advertiser chooses to sponsor that notification, however, it will appear to that user's friends on the right-hand sponsored section of the page. The notification would not show up for strangers.
Some users felt the program was a breach of privacy, however, and sued the social network for using their names and profile pictures without their consent. The plaintiffs argued they should be compensated for being used as unwilling spokespersons in Facebook's advertising efforts.
Facebook argued that the plaintiffs couldn't prove they had been economically hurt by the use of those names or images. Counsel for the site stated that by clicking the "like" button, users were giving "implied consent" to use their information.
Settling on Changes
Facebook ultimately won the fight to keep the Sponsored Stories program, although it will have to make changes. The social network must give users the chance to opt out of the program. For users under 18, Facebook must allow parents to decide what info from their children's profiles may appear in a sponsored story post.
The site also paid $10 million. The cash from the settlement will go to an undisclosed charity.
The concession to allow users to opt out of the service, especially in the case of minors, is a good peace offering to privacy advocates, said Justin Brookman, director of consumer privacy at the Center for Democracy and Technology.
"I think letting users opt out of sponsored stories is a good idea," he told the E-Commerce Times. "You could argue about whether they should actually be required to affirmatively opt into Facebook's using their images for advertising, but from a legal perspective, Facebook's terms have always reserved pretty broad rights over profile images uploaded to Facebook in their Terms of Service, which their users have clicked 'I agree' to."
It's especially difficult to prove that the policy is invasive since Facebook users aren't forced to "like" anything on the site, or even to be on the site in the first place, Jennifer Sheahan, founder of FBAdsLAB, told the E-Commerce Times.,p>"By hitting the 'like' button, a Facebook user is effectively choosing to publicize their support of the brand to their friends," she said. "They're not forced to hit 'like,' they do it by choice. It's similar to someone wearing a T-shirt bearing the brand name and logo and walking down the street in full public view."
Since the law is making it easier for sites to gather and use personal data, however, users must be vigilant and engaged, said Gordon Owens, digital marketing professional at GO Digital WSI. If users are active in making sure they understand how their information is being used, Sponsored Stories could actually offer them a better social experience.
"For Facebook, the information I share with them lets them send ads to me that I might actually be interested in," he told the E-Commerce Times. "I think there is a trade-off in sharing personal information and user experience. I think allowing people to control what they share is a always a good idea."
Good News for Bottom Line
Though Facebook had to shell out $10 million on the settlement, the payment might be worth it for what it can bring in from advertising revenue, said Sheahan.
"Sponsored Stories are very effective because of the social proof aspect of the ad," she told the E-Commerce Times. "When you see your friend's picture and name next to a brand or page name, you're far more likely to 'like' the page. We saw a dramatic increase in new fans once we began implementing use of the Sponsored Story ads for our clients."
With Facebook's decision to go public placing increased pressure on the site to boost income, an uptick in the company's bottom line is worth settling for, said Brookman, especially if it means an increased emphasis on privacy.
"Facebook obviously has been under pressure to increase advertising revenues in light of the IPO, and they have repeatedly said that Sponsored Stories are much more effective than typical FB advertising." he said.
Facebook didn't respond to our request for comment.