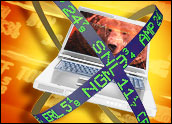 The Securities and Exchange Commission released a new set of disclosure rules Tuesday that allow executives to use social media sites such as Facebook and Twitter to update investors about significant corporate announcements that fall under Regulation Fair Disclosure mandates.
As long as executives alert their investors about which blog or social networking sites will be used to post announcements, CEOs can fill those online venues with the same kinds of news about their companies that would appear in a Form 8-K or an earnings report. Those comply with Regulation FD, which requires that material information about a company is disseminated in a non-exclusive manner.
The ruling follows an investigation into Netflix CEO Reed Hastings and a post from last summer on his personal Facebook page. Hastings posted an update that Netflix viewers had watched more than one billion hours of streaming video for the first time. Netflix's share price jumped following his announcement.
In December, the SEC said it would investigate Hastings' move and determine whether a social media site was too selective a place to reveal detailed company information. With the new rules, Hastings would have to notify all investors that Netflix might use his Facebook page for news or comments about the state of the company.
Even though the SEC's press release about the new rules said an executive's personal social media page would be an unlikely place to find key corporate information — as opposed to that company's official social media page — the agency said it did not initiate any enforcement actions against Hastings or Netflix.
The SEC did not respond to our request to comment for this story.
Understanding New Media
The broader SEC rules regarding social media might seem like a step forward, but it's still possible that information posted on social sites could escape the eyes of investors, said Brian Carter, Internet marketing expert.
"It's a strange decision that seems progressive on the government's part, but may reflect their lack of understanding about how Facebook pages work," he told the E-Commerce Times. "We don't know that every investor is on Facebook, and we do know that only about 12 percent of Facebook page posts appear in page fan news feeds. So investors could choose to use Facebook to stay up on the latest disclosures, but they would have to go to the corporation's page and scroll through everything."
That means that any corporation that wants to use social sites to disclose info should make sure those announcements can be searched for and found by any investor, said Carter.
"I would be worried that info would get lost," he added. "The information needs to be organized better than this — it should have to be also released simultaneously on a website that's easily searchable."
Keeping Up with the Times
The SEC new set of social media rules is an acknowledgement that the law is trying — albeit slowly — to keep up with the rapidly evolving tech industry, said Derigan Silver, professor of law and media at the University of Denver.
"The SEC hasn't really created new rules for social media so much as it has applied old rules to social media," he told the E-Commerce Times. "That's a good first step — at least the SEC is realizing it has to deal with situations like the Netflix Facebook post — and I appreciate the agency taking that step, but this approach isn't really revolutionary."
A more innovative approach to social media would be to amend its rules to allow CEOs to not only use websites or social networks to make announcements, but also to provide the kind of interaction that attracts people to social sites in the first place, Silver said.
"The SEC is playing some catch-up, realizing that CEOs and companies are using social media in much the same way they use websites," he noted. "Unfortunately, however, the new rules treat social media and blogs almost exactly the same way they treat websites, so much of the spontaneity and personal connections that social media allow for is removed."