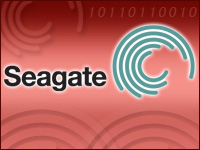 Seagate and Paramount Digital Entertainment have launched a limited promotion for a Seagate portable hard drive that has been on the market for about a year-and-a-half — they are now offering it preloaded with Paramount movies.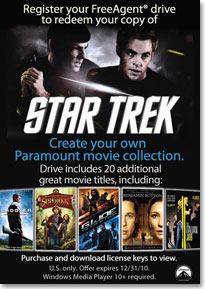 Seagate and Paramount have partnered to preload 500-GB Seagate FreeAgent Go ultra-portable drives with 21 recent Paramount films.
The 21 movies preloaded on the 500 GB FreeAgent Go can be viewed only after the user pays a fee of US$9.99 to $14.99 each to unlock them. Hard drives in specially marked packages will let buyers activate Paramount Pictures' "Star Trek" (2009) for free.
The movies on the drive will be licensed for multiple devices, including desktop computer, laptop or widescreen television. To activate the films, consumers must register the drive online and receive a promotional code for redemption, which provides a license key.
The device comes preloaded with a variety of movies types: "The Curious Case of Benjamin Button"; "GI Joe"; "Shooter"; "The Hunt for Red October"; "The Italian Job" (2003); "Ghost"; "Patriot Games"; "Beowulf"; "Enemy at the Gates"; "The Spiderwick Chronicles"; "The Love Guru"; "Coach Carter"; "The Manchurian Candidate" (2004); "Nacho Libre"; "Jackass 2.5"; "A Plumm Summer"; "Carriers"; "Dance Flick"; "Jimmy Neutron: Boy Genius"; and "Sky Captain and the World of Tomorrow."
Ownership Model
Even though FreeAgent Go has been shipping for the past 18 months, the offer adds value beyond the movies themselves, Nathan Papadopulos, Seagate spokesperson, told the E-Commerce Times.
"Right now, there are limited ways to purchase digital content — this is the first time a major Hollywood studio has provided its content embedded in a hard drive," he said.
Most of the models, such as streaming content or downloads from such sites as iTunes, are either rental models or require consumers to take a number of steps in order to view content on more than one device.
"We are offering three easy-to-use viewing options," said Papadopulos.
Against the Trend
Even with an effortless configuration, it is hard to overlook the alternatives available on the market — as well as the trend toward cloud storage — that make the Seagate-Paramount offering look, well, close to obsolete.
The idea of paying $10 or more to unlock movies you have not chosen is irritating to say the least, said N. Venkat Venkatraman, chairman of the information systems department at Boston University'sSchool of Management.
"This is somewhat misplaced as a bundled offering, especially in light of cloud-based storage and access," he told the E-Commerce Times. Also, he added, there is a good chance the DRM can be cracked.
Paramount's Perspective
The offering makes more sense when viewed from Paramount's perspective, Charles King, principal of Pund-IT, told the E-Commerce Times.
"It is a good way to squeeze out new revenue for films that may be off of people's play list," he noted.
Not everyone has bought into the streaming or digital ownership models, added King. There is a group that forms a likely constituency for this product.
Even if Paramount sold an average of just three movies per drive, it would probably come out ahead, based on its investment in underwriting it, he estimated.
For consumers, it could prove to be a good deal too, King noted. The movies on the drive only take up one-tenth of the space, at 50 GB. Also, the drive is being marketed at $99.99 — down from the retail price of $139.99. Some people may buy it just to get a reduced-price drive.
Enough people will likely download the films to make it worthwhile for both companies, he said. "It wouldn't surprise me if we saw other offerings like this."