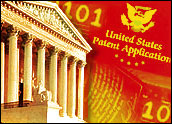 Hard drive maker Seagate Technology is taking solid state drive manufacturer STEC to court over patent infringement.
In a suit filed Monday in Northern California's U.S. District Court, Seagate claims STEC has violated four patents that Seagate had registered between 2002 and 2006.
The battle is focused on solid state drives (SSDs), which use chip-based drives for storage and are catching up with hard disk drives (HDDs) that are familiar to most computer users. Devices such as MP3 players, cell phones and cameras use solid state drives — also known as "flash drives."
Evolving Technology
Now, the technology is starting to make its way into computers, although higher costs have slowed its progress in the consumer PC market. The cost differential of flash drives to hard drives is 20-to-1, Jim Handy, an analyst with Objective Analysis, told the E-Commerce Times, noting, "It's likely to stay there for awhile."
Nevertheless, a number of market-leading computer companies such as Apple and Dell have started to use solid state technology in some of their products.
"In general, solid state drives are [expected] in the next couple of years to take over a nice portion of the marketplace," Jack Gold, principal analyst at J. Gold Associates, told the E-Commerce Times, "but they're clearly more expensive than magnetic drives."
STEC Issues Denial
STEC responded to the lawsuit by stating it had been building solid state drives long before Seagate obtained any patents on the technology.
"Throughout our 18-year history, STEC has been diligent in its pursuit of industry-changing technology while entirely respectful of the intellectual property that has been developed by others," said STEC Chairman and Chief Executive Officer Manouch Moshayedi.
STEC develops and markets memory solutions based on flash memory and dynamic random access memory (DRAM) technologies.
"STEC believes these allegations are in response to the competitive threat that we … pose to the HDD industry," Moshayedi said. "We view this action as Seagate's attempt to slow down the growth that STEC's SSD business is experiencing, particularly in the enterprise segment. We have a high degree of confidence in STEC's intellectual property portfolio."
A Questionable Move?
STEC may have a point. "If somebody else gets the technology to market first, as is the case in this instance, the difficulty for the challenging firm is prior work. They might have a patent that can show this, but STEC might say they were working on it first. It will be interesting to see how this plays out," Rob Enderle, principal analyst with the Enderle Group, told the E-Commerce Times.
>"Putting a cloud over" a new competing technology by filing suit may be a questionable move on Seagate's part, Enderle commented. "This flash stuff provides enough of a performance advantage, and the market has taken a premature interest. The market has taken to these things like a fish to water."
The technology is moving more quickly than previously anticipated, he noted. "These things are starting to move into the market."
Speed also is key to flash memories, particularly in the enterprise world, Enderle noted. "A few seconds can make a ton of difference — millions of dollars of difference. These things often provide a more than a few seconds' advantage."
No Surprise?
Litigation about the technology comes as no surprise, Ilan Barzilay, an attorney with the Boston legal firm Wolf, Greenfield & Sacks, told the E-Commerce Times.
"Sometimes, they're about excluding competitors from the market," he said. "Solid state is a big thing now. People are trying to get away from hard drives, which have movable, breakable parts. You want a reliable memory device."
Seagate did not return a call for comment.
The company's shares were down 8 US cents to $19.89 on the New York Stock Exchange Tuesday morning. For the year-to-year period, the stock had ranged between $18.60 and $28.91. STEC shares fell 7 cents to $6.87 in morning trading on the Nasdaq stock exchange. The stock's 52-week range was $5.67 and $11.05.