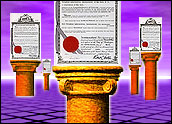 Only weeks after having won a digital format battle against HD DVD, Sony finds itself entangled in a legal fight over the technology behind Blu-ray.
The U.S. International Trade Commission will hear a case filed by a retired university professor with a 50-year engineering career against Sony, Motorola, Nokia and more than 25 other companies for patent infringement.
Gertrude Neumark Rothschild, a professor emeritus at Columbia University, is accusing more than 30 companies of violating patents she holds for light-emitting diodes (LEDs) and laser diodes that are used in Blu-ray players and mobile phones, such as Motorola's Razr, as well as instrument panels, billboards, traffic lights and data storage devices.
Complaint Filed in February
Rothschild filed her complaint Feb. 20, alleging violations of section 337 of the Tariff Act of 1930 in the importation into the U.S. of certain short-wavelength light emitting diodes, laser diodes and products containing same that infringe a patent she owns.
Rothschild is looking to block the companies cited in her suit from shipping all products in question into the U.S.,the ITC said.
Actually accomplishing that goal is problematic, Bill Mandir, a patent attorney with Washington-based Sughrue Mion, told the E-Commerce Times. "It's usually quite difficult to get."
Among other companies accused of patent infringement are Sony Ericsson, Toshiba, LG Electronics, Pioneer, Sanyo Electric and Sharp Electronics.
"Dr. Rothschild made a seminal breakthrough in the production of the blue and ultraviolet LEDs that are essential to a wide variety of consumer electronics products today," said Albert Jacobs, a partner at the firm Dreier and one of the complainant's attorneys. "She richly deserves both scientific as well as commercial recognition for her work."
It's unclear whether shipments of Blu-ray players would be actually barred. "I can't imagine they'd be on hold," Forrester Research analyst James McQuivey told the E-Commerce Times.
The timing seemed a bit curious as well, he added. "I can't understand why we haven't heard about it before now. I guess that's up to the patent investigators."
Timing for Blu-ray Not Good
Although Sony's Blu-ray recently won the digital format sweepstakes against rival Toshiba's HD DVD, there aren't a lot of customers lining up for the technology — yet, McQuivey noted.
"Blu-ray isn't selling like hotcakes anyhow, so it's not like it's a big market hanging in the balance," he said. "But Sony is determined to make it one."
To this point, McQuivey noted, most Blu-ray technology sales have been, in a sense, incidental to other products. "Honestly, where it's sold the most has been bundled in the PS3 (PlayStation 3) gaming system."
Although Blu-ray has defeated HD DVD, there remains a lot of work to do for Sony to make the format a success in the U.S. market. "That's barely over now, so it's up to Blu-ray," McQuivey added. "If this suit could cause any trouble for Blu-ray, this is a bad year for this to happen."
The ITC emphasized that it is only investigating the situation and has not made any judgments on the merits of the case. The case will be referred to one of the ITC law judges, Paul Luckern, who will determine whether it will be subject to ITC review.
Comparatively Speedy Process
The ITC will make a final determination in the investigation at the earliest practicable time. Within 45 days after institution of the investigation, the ITC will set a target date for completing the investigation. ITC remedial orders in section 337 cases are effective when issued and become final 60 days after issuance unless disapproved for policy reasons by the U.S. Trade Representative within that 60-day period.
"The ITC is very quick," Mandir said. "That's one of the reasons you file as a patentee in the ITC; it's much quicker than a district court case."
The trial could come in quickly — in as little as a year's time, he added. "In district court terms, that's very, very fast."
However, the timing often depends on how complex the judge considers the case, Mandir continued, noting that in this instance, it's likely to be considered a complex case because of the number of respondents involved. "Like most ITC cases, there are a lot of foreign respondents named, and that's not a surprise, because the ITC deals with companies that import into the U.S."