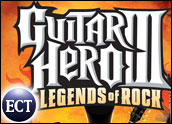 The relationship between Activision and Gibson Guitar went off-key Tuesday. The two companies had until now worked in concert with one another after the hugely successful release of the third installment of the "Guitar Hero" series. Recently, however, Activision filed a lawsuit in U.S. District Court for Central California asking a judge to settle a dispute over alleged patent infringement.
The two companies have a longstanding partnership as a result of the "Guitar Hero" franchise. Retail sales of the series in North America topped US$1 billion as of January, according to The NPD Group. Since the game's initial release in 2005, the franchise has sold more than 14 million copies in North America.
Activision licensed the rights to use Gibson's iconic electric guitars — used by music legends such as B.B. King, Eric Clapton and Slash — as the model for the game's controllers. It also uses depictions of the Gibson guitars within the video game. Claims made by Gibson focusing on the controllers kicked off the current round of legal wrangling.
Whose Idea?
At issue are claims by Gibson that Activision's "Guitar Hero" violates a patent Gibson obtained in July of 1998 for "a system for electronically simulating participation by a user in a prerecorded musical performance."
The system included a "head-mounted 3-D display" with stereo speakers, an "interface box" connected to the audio-video playback device and an audio mixer. Gamers would interact with the system pressing buttons on guitar-shaped controller.
Gibson claimed it is well within its rights to request a license from Activision.
"Gibson has been involved in ongoing conversations with Activision Publishing, Inc., … regarding its infringement of a Gibson patent. Gibson has rights to request a license of Activision, which is currently using its patent as it relates to the guitar controllers. In addition, the company has encouraged Activision to enter into discussions in an effort to secure a conclusion to this matter," the company said.
"Instead, Activision chose to release a public statement to media and to file a lawsuit. Gibson stands behind its claim in this matter," Gibson added.
The final straw for Activision reportedly was a January letter, included in the filing, from Gibson's attorney alleging that by selling any version of "Guitar Hero" game software and instrument controllers, the company was taking advantage of Gibson's patented technology without providing proper compensation.
The Santa Monica, Calif.-based game publisher has reportedly argued in court documents that Gibson has been aware of the "Guitar Hero" game for several years and "encouraged" Activision to make the devices it now says are an infringement.
Activision notified Gibson on Monday that there was no infringement on its patent involving "Guitar Hero" and therefore it did not need a license.
Advantage Activision?
Legal experts familiar with the case think Activision has a point.
"I find it interesting that Activision licensed some rights from Gibson for this game, has been producing it since 2005, and only now is Gibson complaining? Seems odd," said Dan Bourque, a U.S. patent attorney at Bourque & Associates.
Activision has the better argument, according to Michael Pachter, a Wedbush Morgan analyst and a lawyer.
"The [patent] description sounds very different from the 'technology' used to create the 'Guitar Hero' controllers. Further, the date of the patent implies that Gibson could not have identified technology for simulating a live performance using a PS3, Xbox 360 or Wii, none of which existed in 1999. Finally, we agree with Activision's assertion that Gibson's claim is not timely, especially given Gibson's failure to raise its claim over the last three years while Activision detrimentally relied upon its silence as assent," he said.
Gibson's claim would be barred in court under a doctrine known as "collateral estoppel," Pachter explained, unless it is able to successfully assert that it only recently learned of the infringement.
"Given the pre-existing licensing arrangement between Gibson and Activision such an assertion is implausible," he added.
Activision will claim that Gibson's delay unduly prejudiced them and Gibson should not be able to recover anything, Bourque told the E-Commerce Times.
"I predict an amicable solution before trial," he concluded.