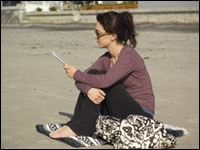 Document-sharing site Scribd.com launched a new feature Wednesday allowing users to easily transfer many of the site's 10 million books, magazines and documents to mobile devices, including Amazon's Kindle, the Nook e-reader and the Apple iPhone.
It's part of the San Francisco-based tech company's effort to plant its hooks in the growing e-publishing business by making it especially easy for people who don't yet have e-readers — which is to say most of us — to behave as though we do.
The feature works differently for each device. For some devices, such as the Kindle or iPhone, for instance, it's a simple matter of entering an email address or telephone number to which Scribd should send the content. Some readers, such as the Nook, require that the content be downloaded to the computer, then dragged onto the connected device.
New Mobile Strategy
It's the first stage of Scribd's mobile strategy. Until now, the company has focused on building ways for users to upload, discover and share written content, spokesperson Michelle Laird told the E-Commerce Times.
"Now we're onto a new phase — the consumption phase," she said.
The new feature will make it easy for smartphone users, particularly, to transfer business documents and recreational reading onto smartphones that may not have previously supported long-form documents with ease, she said.
Not all of Scribd's content is available through the send-to-device feature. DRM-protected files, such as books from Simon & Schuster and other major commercial publishers, cannot be transferred, according to Laird.
Among the documents that are available are books and chapters of books from publishers such as O'Reilly Media and Loneley Planet, according to Scribd.
About 95 percent of the content on Scribd is available for free, Laird said.
Native Apps Coming
By the end of March, Scribd expects to launch an iPhone app, noted Laird, followed by device-specific apps for Android devices and the Kindle, among others. Later in the year, Scribd expects to launch new tools to help content creators make money off their uploads, but details of those concepts haven't yet been released.
The company also announced Wednesday a mobile API allowing device developers to directly integrate Scribd's search and social networking functions into their devices.
What It Means
Finding ways to deliver content across all platforms is clearly a good idea, Simba International Senior Analyst Michael Norris told the E-Commerce Times, and Scribd is wise to take its offerings mobile and let them move away from the PC, where most of its users are located.
Growing consolidation around the ePub standard for e-books and the pending arrival of Apple's iPad — often touted as a godsend for e-books, magazines and newspapers — have many analysts expecting big things of the market in the years to come.
However, it's still unclear whether Scribd, which has about 50 million monthly visitors and is often described as the "YouTube" of the word world, has a business model that will win out in the end, he said.
It's clear from deals last year with major publishers that commercial content providers think enough of the idea that they want to stick around to see what happens, he said.
"Facebook went from 'Facewhat?' to 400 million people in just a couple of years," Norris remarked. "Publishers want to be there when the next cool-sounding concept takes off."