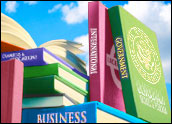 Scribd.com, the online document-sharing site, plunged into the world of e-commerce Monday with a store designed to help both established publishers and independent authors make sales.
The Scribd Store allows content creators to set prices and digital rights for their works and follows closely on arrangements with major publishing houses to make some of their titles available on the 2-year-old site.
Books from major publishing houses will be on sale alongside works by amateur authors and some professionals seeking to bypass traditional publishing models. Content providers will retain 80 percent of each sale.
Pent-Up Demand
The site draws more than 60 million visitors a month worldwide, according to the company, and traffic has doubled about every six months since the site was founded in March 2007, said Tammy Nam, vice president of content and marketing.
The company, which has received US$14 million in capital through two funding rounds, is already profitable through search advertising, she said.
"There was this pent-up demand for this kind of service," she told the E-Commerce Times.
No other company is exactly duplicating the company's business model, Nam said.
Uncertain Prospects
The move will likely boost Scribd's traffic numbers, but it may not translate into a huge business boon for the company, said analyst and author John Blossom, president of research and market strategy firm Shore Communications.
"As a business, I don't know that they're automatically going to soar," he told the E-Commerce Times. "This is more of an experiment rather than an all-in commitment by publishers."
Other sites, such as Lulu.com and Webook.com, may compete with Scribd for the attention of independent authors.
The launch does set up Scribd as an appealing acquisition candidate, Blossom said, perhaps by a publishing house, Google or even Sony — a company in search of greater success in the electronic publishing field.
Platform-Neutral Model
Scribd is intently focused on getting written content out into the hands of readers regardless of what platform they choose to read it on, noted marketing VP Nam, and the company consequently is talking with hardware manufacturers about providing content for their gear.
Currently, readers can choose to read a document on the Web site, download it to their computers, or view it on a Web-enabled mobile device. An iPhone application is coming in the next few months, Nam said.
The company is also exploring ways to partner with outside companies to convert its e-books into printed books, she noted.
Sales Expectations
Nam declined to discuss sales projections for the store, and said she had not reviewed statistics for the its performance in its first few hours Monday. She said only that the company is closely watching the store's performance and is not sure what to expect.
"It's completely uncharted territory," she said.