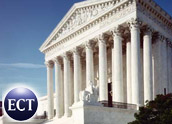 A lawsuit that began as a quest to reimburse customers for alleged collusion among telecom providers to lock upstart companies out of the market and keep prices high has ended with new restrictions on how such class action suits can be brought into court.
Attorneys Milberg Weiss Bershad & Schulman brought the class action, Twombly v. Bell Atlantic Corp., alleging that the telecoms had engaged in "beneficial parallel conduct" based on price fluctuations and other market developments. Once the complaint was filed, they proceeded to the discovery phase to gather further support for their claims.
The Supreme Court threw out the case — on grounds that the plaintiffs had not "nudged their claims across the line from conceivable to plausible" — in a 7-2 decision.
Conspiracy or Competition?
"The Supreme Court announced that antitrust plaintiffs claiming conspiracy based on parallel conduct of competitors must plead more than the parallel conduct and a bare allegation of agreement among the competitors," explained Beth L. Fancsali, a partner in the antitrust practice group at Wildman Harrold.
"Plaintiffs must come forward with allegations plausibly suggesting — not just consistent with — an agreement to restrain trade," Fancsali continued. "Otherwise, the plaintiffs have failed to state entitlement to relief required by Federal Rule of Civil Procedure 8, because the conduct could be just as consistent with rational and competitive strategy as with an illegal conspiracy."
In other words, it should not be automatically assumed that companies have actively worked together when they behave in the same manner in response to market trends.
Fewer Frivolous Lawsuits
The immediate impact will be felt, of course, by the telecom providers, which are jubilant about the ruling. "Today's decision affirms the freedom to decide when and how to enter new markets," Verizon Senior Vice President John Thorne stated.
Thanks to this and other recent rulings, he added, "firms will not be challenged under antitrust for making independent choices that benefit consumers."
The ruling's impact will be felt in every sector that falls within the reach of the Sherman Antitrust Act. Class action suits will likely be significantly curtailed.
For companies bemoaning the high cost of litigation — and, from their perspective, proliferating frivolous lawsuits — the decision is welcome indeed.
"The amount of money that must be spent on preparation, attorneys fees, etc., can drag on and on," Jones Day partner John Majoras told the E-Commerce Times. "Firms are also vulnerable to 'blackmail settlements' where anyone can file a suit and the company will just pay to make it go away."
It is not unusual, he pointed out, for a wave of class action suits to follow whenever the Justice Department or the EC Commissioner announces it is beginning an investigation into a company.
Consumers Benefit?
At face value, the suit appears to be a blow for consumer activists and, of course, consumers themselves. However, it may be that consumers will benefit in the long run.
There is, of course, the axiom that reductions in corporate costs are passed along to the consumer in the form of savings.
A more subtle — and convincing — argument is put forth by Boston University Professor Keith Hylton.
"It doesn't immediately follow that consumers will be hurt by the ruling," Hylton, who authored the textbook Antitrust Law: Economic Theory and Common Law Evolution, told the E-Commerce Times.
"The Court rejected the argument that you don't need much evidence to go forward with a conspiracy claim. Let's suppose it decided the other way. Now you would have a situation in which several firms are competing against each other. They might want to drop prices in order to draw customers," he reasoned, "but if they think they will be subject to a lawsuit when they raise prices again — they may not drop prices at all."