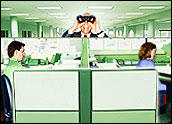 The U.S. Supreme Court on Monday heard oral arguments in City of Ontario v. Quon — a case that could significantly expand employees' privacy rights in the workplace. Questioning by the justices led some court watchers to conclude that the Court will decide it on very narrow grounds and likely side with the City of Ontario. If that does happen, employers will breath a sigh of relief, said Devjani Mishra, a labor and employment partner with Seyfarth Shaw.
"It will give employers some breathing room to fix their policies and make sure they are comprehensive and delineate what is acceptable and what is not with technology," Mishra told the E-Commerce Times.
Texting on Company Devices
At the heart of the case is the question of whether the Ontario, Calif., police force had the right to read text messages sent by its employees.
The police department did not have a formal policy about text-messaging, but it did have a general computer, Internet and email policy, which stated that use of such equipment and services was limited to city business.
This particular case likely would not even have made it to a local courtroom if that policy had been enforced. However, it was undermined by a lieutenant who collected additional money from police officers when they exceeded their 25,000-character text-messaging "allowance." The officers were assured that they could use the text service for personal communications as long as they paid any extra fees.
The department decided to conduct an audit, which revealed that an officer, Jeff Quon, had sent sexually explicit messages from the police department's account. When he learned his messages had been read by others, Quon sued the department for violation of his privacy. The case made its way to the 9th Circuit, which held that the police department violated Quon's Fourth Amendment rights against unreasonable search and seizure.
This case is significant, because the current understanding among most companies is that there is no privacy in employee communications, Christopher Parlo, an attorney in the labor and employment practice at Morgan, Lewis & Bockius, told the E-Commerce Times.
For example, if there were concern that a terminated worker might file a charge, he said, employers expect that the company would be able to access that employee's communications and IT files in order to prepare a response. This case could upend that and other commonly held beliefs.
Siding With Employers
Based on the questioning by the justices on Monday, there is a good chance those concerns will not materialize, Seyfarth Shaw's Mishra told the E-Commerce Times.
Although both sides were peppered with questions, "the justices seemed to be leaning in the direction of the city," she said.
'A Fairly Narrow Decision'
However it is decided, it will likely be on narrow grounds and confined to the unique facts of this case, said Gary Friedman, a partner with Weil Gotshal's employment litigation practice, told the E-Commerce Times.
Several of the justices dwelled on specifics such as the fact that Quon worked on a SWAT team and was on call 24/7, he noted. They also remarked on the fact that Quon was specifically told by his lieutenant that as a supplement to the city's broad email policy, pager messages were considered "emails," and that those pager messages fell under the city's email policies.
Surprising Questions
Many of the justices also asked questions that might have seemed surprising, given their predispositions on privacy issues.
"Justices Stevens, Sotomayor and Ginsburg — who might typically be expected to protect an employee's privacy interests — questioned whether Quon really had any reasonable expectation of privacy given these and other facts putting Quon and others on actual or constructive notice that their text messages might be reviewed," Friedman said. "In particular, Justice Ginsburg questioned why any police officer wouldn't understand a policy expressly warning of the monitoring of emails and Internet activity, and 'all associated equipment,' to also apply to pagers."
On the other hand, Chief Justice Roberts — who would normally be considered less likely to protect an employee's right of privacy in the workplace context — placed weight on the city's regular practice of allowing its police officers to simply pay for the overage charges when they exceeded the 25,000 character limit, without investigating whether the messages were of a business or personal nature, Friedman observed.
Of potential significance to private employers was the difficulty several justices were having, especially Chief Justice Roberts, with the city's argument that the employer's written policy should always be controlling, added Friedman. "Roberts intimated that that might give employers too much power to determine what is reasonable, as in the case of the fine print on a parking garage ticket that contains various disclaimers."
The point to extrapolate here, Friedman said, is that employees who work in the private sector may be entitled to certain privacy rights, notwithstanding broad policy language in an employer handbook or manual.