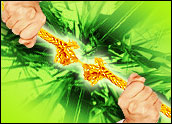 Apple has won a preliminary injunction against Samsung that bans U.S. sales of the latter's Galaxy Nexus smartphone.
The ruling came just days after the same court handed down a similar decision that banned U.S. sales of Samsung's Galaxy Tab 10.1.
Judge Lucy Koh ruled Friday that Apple had sufficiently shown it would see a significant loss of sales and smartphone marketshare if a preliminary injunction was not granted.
The main patent under question in the Galaxy Nexus matter is U.S. patent 8,086,604, known as the "604 patent." It covers search and voice capabilities via a single interface and predetermined algorithms, which is largely how Apple's voice assistant Siri operates. Since the patent is core to how Siri functions, Koh ruled, Samsung's infringement of that patent could cause irreparable harm to Apple.
The injunction was made pre-trial; Samsung moved to appeal the decision on Sunday, and Koh is expected to decide Monday whether to put the injunction on hold pending appeal.
Neither Samsung nor Apple responded to our request for comment on the story.
Good Court Run for Apple
The decision marked Apple's second win in court last week, after Koh also granted the company a preliminary injunction against Samsung's Galaxy Tab 10.1 tablet. But that blow to Samsung was blunted by the fact that the company had already begun selling a newer version of the Galaxy Tab. The Galaxy Nexus smartphone may prove a more critical win for Apple.
The Nexus, which runs Google's Android operating system, was supposed to be one of the first devices on which developers could test Android's next version, Jelly Bean.
It is also a somewhat surprising decision, since preliminary injunctions are rarely granted, said Steven J. Henry, IP attorney at Wolf Greenfield.
"Preliminary injunctions are very difficult to obtain in patent cases when the patent has not previously been asserted and survived challenges to its validity," he said. "Most judges are reluctant to grant preliminary injunctions to enforce untested patents because a preliminary injunction can have the practical effect of creating a total market win for the patent owner even if the defendant prevails."
Ongoing Battles
The injunction rulings are just the latest in the ongoing battle between Apple and Samsung for marketshare. The companies are at legal war in several countries over alleged patent infringements on various smartphones and tablets. If the injunction stands, it could be a tough blow for Samsung and Google, said Ray Van Dyke, an IP consultant and patent attorney in Washington, DC.
"Injunctions can be devastating," Raymond Van Dyke, a Washington, D.C.-based technology and IP attorney, told the E-Commerce Times. "Samsung can, of course, settle, but this is unlikely due to the nature of this life-or-death struggle for market dominance. Samsung has other products that hopefully do not employ the features covered in the patents in suit."
Since the stakes are so high in the rapidly evolving smartphone race, the ongoing arguments and possible trial between Samsung and Apple are likely to get brutal and messy, said Van Dyke, especially since both sides have significant leverage and patent portfolios.
"Apple's strong patents in suit and their legal strategy have been successful of late," he said. "But, the federal circuit may disagree here. Also, competition leads to unconventional tactics, and Samsung is a fierce competitor in this struggle."