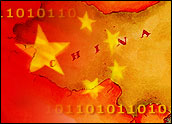 The claims that Samsung and Apple have on smartphone market share in China may come as a surprise to people who are familiar only with U.S. trends. Samsung far outpaces Apple in the world's most-populous country, with a 24.3 percent share of the smartphone market, according to new figures from Gartner. Apple, by contrast, has only a 7.5 percent share.
One reason for the wide gap, Gartner suggested, is the limited number of carriers that distribute the iPhone.
This is definitely true, Azita Arvani of the Arvani Group, told the E-Commerce Times.
"Samsung has a big lead over Apple in China because it is selling through all three tier one operators in the country," she said. In particular, Samsung has partnered with China Mobile — the No. 1 mobile carrier with 655 million subscribers, almost twice as many as the number of subscribers for the No. 2 and No. 3 carriers combined.
Up to now, Apple's iPhone has been mainly sold through China Unicom, the No. 2 carrier, with 202 million subscribers, Arvani said. Apple has just inked another carrier partnership, with China Telecom.
Still No. 3
However, China Telecom is the No. 3 provider in the market, Arvani pointed out, with only 129 million subscribers. More to the point, the agreement has only been in place a few days.
"So, there is not enough time to see the effect of China Telecom selling iPhones yet," she concluded.
Samsung's Head Start
Even if all 129 million China Telecom subscribers were to suddenly adopt the iPhone, Samsung's head start in the market has created too wide a gap to close, James Brehm, senior strategist and consultant with Compass Intelligence, told the E-Commerce Times.
"Samsung, because of its proximity and ties to the Chinese government, has been active in the market for years. They already have extensive distribution plans and partnerships, and they have a brand that is highly recognized," he said.
Price-Sensitive Economy
Also in Samsung's favor in China are its products' price points.
"China is a very price-sensitive economy, even with its growing wealth," said Brehm. "While Apple's premium price may be viewed as a status symbol in the U.S., it is not seen the same way in China."
Samsung's position in the market will be difficult for Apple to dislodge, Brehm concluded.
Shadow Demand
All that said, the new partnership will undoubtedly affect the competition to some degree.
"It will give Apple a boost in the market," Brehm predicted. Also, there is pent-up demand for the Apple device there, as can be seen by the flourishing market for knock-off iPhones in China.
Chinese subscribers are very interested in iPhones, Arvani agreed. "Even though China Mobile does not officially carry iPhones, 15 million of its subscribers are using iPhones on its slower 2G network. The fact that there was so much demand for iPhone 4S that Apple stores had to stop selling the device at stores is another validation that iPhones are popular in the Chinese market."
Whither China Mobile?
Certainly, if Apple were to ink a deal with China Mobile, it would receive a huge push forward, Arvani observed.
The fact that it hasn't is just a business decision, she added. "So far, Apple has not been willing to create a separate iPhone to support an unusual variant of 3G standard, TD-SCDMA, just for China Mobile. And there are also other parts of the deal that the two parties have not come to agreement with."
It is a similar situation to that of Verizon and Apple not coming to an agreement to sell iPhones in the U.S. for almost three years, she said. "But once they did come to an agreement, Verizon sold many iPhones. I speculate that the same thing will happen once Apple and China Mobile finally agree to work together."
Samsung and Apple did not respond to our requests to comment for this story.