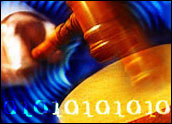 It was a David versus Goliath case that made international headlines. Russian authorities, determined to fight pirated software, came down hard on a school found to have 12 computers with phony versions of Windows and Microsoft Office.
A court on Thursday dismissed the charges, calling the case "trivial." It seems Microsoft isn't going to reap any financial gain by the whole ordeal: Reports soon appeared saying schools in the area — apparently fearful of being similarly charged — plan to now use Linux instead of Windows to run their PCs.
The region's education minister, Nikolay Karpushin, said schools in the area will stop buying software from commercial companies and will begin using freely distributed open source programs such as the Linux OS and OpenOffice desktop apps, according to a published report.
Widespread Rebuke
Microsoft said it played no part in the drama, which drew widespread criticism as being a misplaced use of enforcement. Even Russian President Vladimir Putin and former Soviet leader Mikhail Gorbachev thought the case was silly.
Gorbachev sent a letter of protest to Microsoft Chairman Bill Gates. Putin publicly called the trial of school headmaster Alexander Ponosov "utter nonsense." He urged Russia's prosecutors to focus their energy on the large manufacturers of pirated software instead of small-time users.
Ponosov said he was "off to drink champagne" after learning a judge in the Vereshchaginsky District Court in Perm, about 620 miles east of Moscow, dismissed the case. The government has 10 days to appeal.
Ponosov said the new computers at his school came with the bootleg versions of Windows and Office already installed, but the prosecutor said the principal ordered the fake programs to be installed or knew they were being loaded and didn't care. He estimated Ponosov caused up to US$10,000 in damages to Microsoft.
However, the state sought only a $110 fine and no prison term.
The Tip of the Iceberg
The case against Ponosov might have been much-ado-about-little, but few deny the need for Russia to tackle its software piracy problem. Only China produces more bootlegged music, software and movie discs than does Russia.
While he is a strong believer in cracking down on software piracy, and has been quoted in Microsoft press releases denouncing bootlegging, Tim Kane, president of Expert Computers in Erie, Pa., told the E-Commerce Times that it makes little sense for authorities to prosecute small-fry consumers.
"They are trying to make it the end-user's responsibility, but in my experience in the U.S., the enforcement efforts I've been privy to have been against the sellers," said Kane. "And once they find the sellers, they need to find the larger problem."
Investigators encountering a person selling "ten copies of Windows at a flea market" should try to learn where that person got the discs and then they should work their way up the food chain, he suggested.
Nobody Likes a Bully
Recalling prosecutions against youngsters who used Napster to download bootleg music, Kane noted that companies and authorities pursuing such cases often end up looking like bullies. "If a large company in the U.S. decided to file charges and it was against a poor, starving teacher or a student, a priest or an elderly person, they're going to lose much more in brand reputation" than they gain by winning the case, Kane claimed.
These efforts are unlikely to bother big-time pirates, he added. "This story is probably more of an effort for those authorities to prove they are trying to do something about piracy by picking off a few end-users," Kane continued.
"If they're going to make an example out of one user out of maybe 10,000 running the same type of software, the people [selling the bootlegs] think that's pretty good odds."
Overcoming deeply entrenched political corruption is the big challenge for those wanting to stop piracy in places like Eastern Europe and China, Rob Enderle, principal analyst for the Enderle Group, told the E-Commerce Times.
"In this case, investigators got aggressive and started to go after people and it was clear that what they were going after wasn't exactly the big pirates who probably have political connections and are well-funded," Enderle explained. "We can argue that, in that environment, you have to assume that the big-time pirates have done whatever was necessary to ensure law enforcement doesn't pick on them."