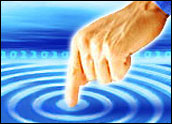 Macrovision, a company that has a number of operations under its roof but is best known for its digital rights management software, has issued a spate of announcements. Two major developments head the list: It is changing its name, and it is embarking on a new product path — namely the launch of a media guide codenamed "Liquid."
The company's new name is "Rovi." Its common stock will trade under the symbol ROVI on the Nasdaq Global Select Market.
Liquid, the new product, is a single interface that connects consumers to digital content, whether its point of origin is the Internet, broadcast or cable TV, or a computer hard drive or other storage device.
The point of the simultaneous rollout and name change apparently is to underline Rovi's self-proclaimed position as key enabler for digital entertainment. Over the past two years, the company has made dramatic changes to its portfolio, said CEO Fred Amoros in a statement, and these announcements are its next steps.
Rovi did not return a call to the E-Commerce Times in time for publication.
How It Works
Rovi has indeed been making strides toward expanding its presence in the converged digital entertainment market. In addition to announcing its name change and the announcement about Liquid, it also announced that it is working with Blockbuster to integrate access to its on-demand content and services through Liquid.
Liquid will also connect to venues such as Slacker radio and YouTube XL, a Web site that optimizes YouTube vidoeos for viewing on large displays.
There are three parts to the new media guide: a Television Content Guide, a Broadband Content Guide and a Personal Content Guide.
The Television Content Guide is a linear broadcast television discovery application that consumer electronics manufacturers can embed into their devices. The Broadband Content Guide connects users to television and movie content, as well as to Internet content including video, music, social networking and other Web sites. The Personal Content Guide organizes the user's media collection and allows content-sharing.
There is also an intelligence component to the application, which has been programmed to learn the preferences of viewers and thus make metadata-enhanced recommendations for new content.
The Liquid guide will be available for CE manufacturers in early 2010 as an entire package or as individual modules.
Too Much at Once?
Clearly, these developments represent a big shift for Macrovision — now Rovi. However, are they big enough to warrant changing its name and ticker symbol at the same time? Usually, a company will try one or the other — a strategic redirection or rebranding — but rarely both at the same time.
In this case, though, it may be justified, suggested Rory Doherty, president of Current Communications.
"It seems to be the right time for this company to change its name," Doherty told the E-Commerce Times. "When it was going through an aggressive growth phase through acquisition, the name 'Macrovision' served fine."
Now, though, Rovi appears to be embarking on an aggressive growth phase focused on a new, organic go-to-market strategy, he said. "For that, it needs to reposition its brand and identity."
Until this point, all of the pieces the company had acquired had their own respected brands, which served its purposes — "but now, it's about the consumer experience, and for that a new brand is necessary."
Risk of Backfiring
Macrovision's transformation to Rovi is a move that could easily backfire, warned Robb Hecht, an adjunct marketing professor at CUNY-Baruch College.
"Launching a new product [with] a simultaneous company name change and Nasdaq ticker change can be beneficial only if the company is dealing with a previous crisis or distancing itself from a bad reputation — such as product defects that have affected its image in the market," Hecht told the E-Commerce Times.
In other words, the complete revamp would be akin to placing the company and products in a witness protection plan, he said.
However, if a company is not running from a reputation problem, then the risk is that attempting to rebrand via a three-pronged approach of name, ticker symbol change and new product launch could result in a loss of sales, noted Hecht.
It loses previous company name-brand loyalists who know its reputation and product line, he said. Also, if both the company and ticker symbol change at the same time, investors might have trouble recognizing it.
Finally, a new product in a relatively new market launched by unknown name could have an uphill climb to gain market share, Hecht concluded.