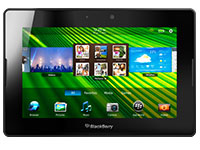 Until Dec. 31, buyers of Research In Motion's PlayBook tablet will be able to get a free unit if they buy two tablets.
The deal is open to anyone who buys a PlayBook from an authorized reseller. In addition to the extra tablet, RIM is also throwing in the choice of a free accessory — a leather sleeve, a charging pod or a high-speed HDMI cable. RIM didn't specify whether the deal applies to all models, but the 16 GB model sells for US$499 on RIM's website. Some retailers, however, have reportedly cut prices on single-sale PlayBooks by several hundred dollars.
The PlayBook, which launched last April, has endured sub-par sales. RIM shipped 500,000 in its first quarter of availability, then dipped to just 200,000 in the fiscal quarter ending Aug. 27, which was lower than the company's expectations. By comparison, Apple's iPad sold 11.12 million iPads in its past fiscal quarter.
While most tablets have struggled to compete with Apple's market-dominating iPad, the PlayBook has been especially criticized for launching without a native support for BlackBerry email or BBM, RIM's propriety messenger service. Users can access their e-mail from a third-party site using a Web browser, but not from a core component on the device unless it's paired with a BlackBerry phone. That was expected to change with a PlayBook OS update, but last week the company announced the release of that software would be delayed. The company indicated it was waiting until it met the expectations of its developers, enterprise customers and end-users.
RIM didn't respond to the E-Commerce Times' requests for further comments.
Act of Desperation?
A buy-two-get-one-free sale is a common sales strategy for boxes of cereal or pairs of shoes, but it's unusual that premium electronics get the same treatment, raising the question of whether RIM is acting out of desperation.
"I do think the two-for-one deal is a sign of desperation for RIM, and it's a clear indication that PlayBook sales have been disappointing," Colin Gibbs, analyst at GigaOm Pro, told the E-Commerce Times.
Just because the company is anxious to drive sales, though, doesn't mean it's a last-ditch effort by RIM.
"It could be an effort to build a following or an ecosystem around these hardware products, and that requires engendering support. In order to do that, RIM understands that you need scale to entice developers, and I think that's where they're trying to go with that," Kevin Dede, analyst at Brigantine Investors told the E-Commerce Times.
The possibility also exists that RIM plans on getting rid of inventory before launching a new product to market, complete with its updated version of the OS and at a more affordable price.
"If RIM can bring a fully functioning tablet to market at an attractive price, it could find an audience. We're still in the early stages of the tablet race, and I think there's a sizable market for an enterprise-focused tablet with the kind of messaging features that RIM has built its business on," said Gibbs.
Will It Work?
The PlayBook offer is certainly a good deal, but if the device can't sell before a huge break in price, it might struggle afterwards.
"I don't expect it will drive sales in any substantial way because the PlayBook still can't support native email, contacts and calendar — a fact that not only limits its functionality, it means that its appeal is limited exclusively to BlackBerry users," said Gibbs.
RIM is just one of many hardware companies that excelled in other areas, then struggled when trying to bring a tablet to the table. Though potential profits are likely enticing, in a weakened economy, many investors value sticking to basics.
"RIM made a mistake by investing so heavily in the tablet space when its mobile business is losing steam. BlackBerry OS is simply too old to compete with Apple's iOS and Google's Android, so RIM must bring quality BBX handsets to market — and soon — if it is to remain competitive in the smartphone business. It should focus on that first, then produce a tablet that can integrate with those phones but isn't dependent on them," said Gibbs.
The deal is sure to get some tablet sales moving, but whether or not that will add up to a winning strategy for RIM's entrance into tablets remains to be seen.
"I think they're really trying to get the ball moving and gain some momentum in the market, but hopefully it's not a Sisyphean task," said Dede.